Main content
Parliament Buildings & The Stormont Estate
Saturday 29th July, 2017
Ballymiscaw,
Stormont,
Belfast,
BT4 3XX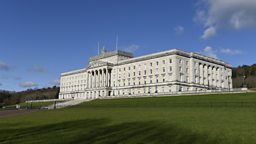 Please note this is a FREE public event, no tickets are required to attend the Antiques Roadshow.
The event opens at 9:30am on Saturday 29th July and as long as you are in the main queue by 4:30pm you will be seen by one of our Roadshow specialists. Please note we will be filming until 7pm and actively encourage visitors to stay on and watch the show being recorded.
Please see some details below about your trip to The Stormont Estate & Parliament Buildings.
Parking is FREE; All Antiques Roadshow visitors will be directed to use the Stoney Road security entrance for access to the main car parks. Please follow the appropriate AA Signage.
The Antiques Roadshow visitors will be able to park within the Stormont Estate car parks and there will be a FREE shuttle bus service operating between the event and the car parks. This Service will be running from 8:00am until 6:30pm.
This will be primarily an outdoor event, taking place on the main lawns in front of the Parliament Building and on the Stormont Estate.
A number of our smaller disciplines will be located inside the Great Hall, of the Parliament Building. Please note access to this area will be restricted to those with specific discipline tickets. There will be a security search in operation for those people who are entering the Parliament Building.
Please be aware that visitors with large boxes and bags may not be able to proceed into the Parliament Building.
Our security team will be operating a random bag search policy at this venue failure to comply may result in you being asked to leave the event.
Please keep an eye on the weather forecast and wear suitable clothing and footwear for the day. You should also make sure that your antiques are appropriately protected.
In the event of wet weather, some of the Roadshow specialists and their respective queues may be moved under the cover of a marquee. Space will be limited and it may still be necessary to queue in the rain if it is a wet day.
Light refreshments including tea, cakes, sandwiches etc. can be purchased from the Antiques Roadshow Tea Tent on the Parliament Building main lawn.
Dogs are allowed in the Stormont Estate on a lead, but not allowed permitted on the main lawns of the Parliament Building.
Any firearms brought to the Roadshow must have a Firearms Certificate. Please make yourself known to our armourer if you have any weaponry before proceeding into the main event space.
If you have an item with a particularly unusual story, or perhaps an interesting collection, why not let us know in advance. Please contact us via our online application form at www.bbc.co.uk/antiquesroadshow and share your story.
If you require a sign language interpreter, please contact us with 14 days notice. You can email us at: antiques.roadshow@bbc.co.uk or telephone us on 01179 742 395
PLEASE NOTE
Blue Badge Holders
Parking for Blue Badge Holders will be available in the Visitors Car Park at the Parliament Building. Please access via the Stoney Road security entrance and a member of our car parking management team will be able to direct you to the appropriate parking area.
TRAIN
The nearest railway station is Titanic Quarter Station
(Approximately 10 taxi journey to Parliament Building & Stormont Estate)
MORE INFORMATION