Main content
Five Ways to Get Six Nations Ready
To play in this tournament, said the great French rugby icon Jean-Pierre Rives, is to "enter another dimension." But those of us who merely watch the Six Nations know that we too embark on a special journey each winter as the Northern Hemisphere's finest do battle across Europe. And just as the teams prepare physically and mentally for the road ahead so must we fans get Six Nations Ready. So here are five ways to do just that…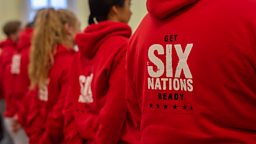 1. Know Your History
At this time of year, you don't want to come over as a daffodil-head dilettante so impress your pals by peppering your pre-match chat with a few fascinating Six Nations factoids. Like the origin of the Wooden Spoon for example. The booby prize was originally associated with maths students at Cambridge University in the 19th century and was given to the poor fellow who got the worst exam results. It is thought the wooden spoon was brought metaphorically into rugby because so many Cambridge graduates played for the home nations in the earliest games. France was the first side to get the Wooden Spoon in 1910 when they officially joined the tournament to form the Five Nations.
2. Choose Your Wardrobe
Shelling out for the pro-fit replica kit is the mark of the most loyal fan but chaps don't imagine donning what is effectively patriotic sausage skin will allow you to replicate the body of George North. If you're more party-pack than six-pack plump for a more forgiving fit. Or go retro-chic and dig out that early 90s classic that could accommodate three Quinnell brothers simultaneously. Girls, wear anything as long as it's red and not accessorised with a sparkly Stetson (so last century).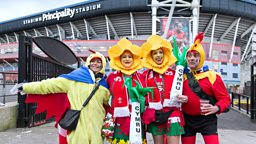 3. Follow the right people
There was a time when the only discussion of the games beyond the field of play came via the typewriter of JBG Thomas in the Western Mail. But the digital age has brought us myriad ways to dissect, debate and delight in every detail of the Six Nations. Social Media is saturated with pundits professional and amateur who will enrich your pre and post-match experience – or quite possibly ruin it, so choose carefully. It goes without saying that you should be following @BBCScrumV on Twitter but don't miss @WelshDalaiLama's legendary Six Nations Drinking Game. It is rumoured that Brian Moore dropped a few phrases from this rugby bingo with booze into his France v Ireland commentary last year – how else would Donald Trump's nonsense word "covfefe" crop up in a discussion of new laws on referee backchat?
4. Take Touring Tips
If you are lucky enough to be following Wales on the road this year a little inside knowledge of Paris, Rome and Edinburgh goes a long way. Stade de France is in the nether regions of industrial Paris and only serves alcohol-free beer so most fans spend the build up in the city centre before getting the train out. O Beret Basque is a popular pre-match bar with Welsh fans and it's right by Gare Du Nord. When in Rome most Welsh supporters head for Irish bars. Scholars Lounge on Via del Plebiscito is a particular favourite for rugby clientele. If you do want to sample the Eternal City's architectural glories, however, pre-book the Vatican online. Edinburgh is a bit simpler on the hostelries front. On match-day, almost any pub will be a riot of red and tartan. And, of course, what goes on tour…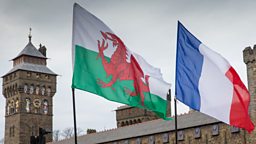 5. Send a message
Back in the 70s, coach Clive "Top Cat" Rowlands used to tell his superstar team they were playing for every man, woman and child in Wales. What a massive responsibility. All these years later we still place the hopes and dreams of a nation on the shoulders of 15 young men. But if we pile on that kind of pressure we should also smother them in support. Don't just sing your heart out in the stadium, scream from the settee or roar from your clubhouse. The WRU actively encourage fans to tweet videos, photos and messages to the team. Get your smartphones out and do your Six Nations duty – it will be hugely appreciated. As Jean Pierre-Rives said, to take part in this tournament is to enter another dimension – and with the backing of the best fans in the world, Wales certainly won't be going there alone.