Main content
How planning ahead can help you to enjoy a calmer Christmas
As the festive season fast approaches, you may already be feeling your stress levels beginning to rise. But December doesn't have to be disastrous; just follow this tried and tested advice for enjoying a calmer Christmas.
Writer Beth Kempton has endured stressful Christmases before, but rather than just accepting that they're part and parcel of the holiday season, she took a step back to consider why such a happy occasion could be so exhausting.
Speaking on The Kitchen Cafe she explains, "We just want our loved ones to have a lovely time and yet so often that translates to stress and worry for us."
She advises that taking a moment now to think about what we want from the next few weeks, can really help to make the run-up to Christmas and the day itself run smoothly.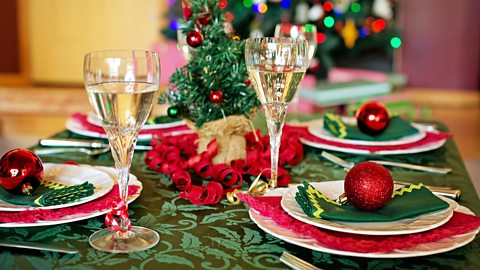 Writer Beth Kempton tells Jenny MacPherson why she plans Christmas meals well in advance.
Think ahead
December can be a busy month so Beth suggests batch cooking freezable meals like soup and casseroles as soon as you can.

"To know that you can come home and get something really good for you out of the freezer, [and] put it in the oven without a huge amount of stress [is a real help]. All those tiny things add up in this festive period."
Plan to do less on Christmas Day
If you've fallen into a pattern of hosting Christmas dinner have a think about why you're doing it, advises Beth. If you're doing it because it's expected of you and you don't enjoy it, it's time to take a break.

"If you do really want to do it is there a more simple way?," she asks. "Could you make it less about a huge spread and more about mulled wine with one specific thing you're going to make? Could you get your guest to bring things, like a pot luck party?"
"Sometimes as host we feel we have to take charge of everything, but actually people love to have something to do and bring and feel part of it," says Beth.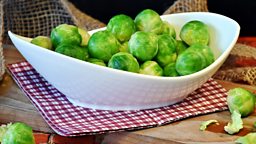 Do you really need to buy those sprouts?
Cut the cost
It's all too tempting to pay for everything by credit card and worry about it later, but Beth suggests taking a moment to think about how much we really need to spend and cutting out what's unnecessary.
"Cost is a huge problem at Christmas. We spent over £4bn on food and drink in the week before Christmas in 2017 in the UK," says Beth.
We can feel under pressure to put all the 'right' ingredients on the table but there are ways to put on a lovely spread without breaking the bank.
"Get a smaller turkey and have more veg," suggests Beth. "Individual veg that fill the plate and make it look delicious are a lot cheaper than a huge chunk of meat."
She also recommends thinking about whether you really need to lay on all the trimmings.
"Focus on one or two things that you want to do brilliantly and then let go of some of the stuff around the edge. Ask the people coming what is their absolute favourite thing to eat at Christmas dinner is and if no one's mentioned cranberry sauce don't worry about it!"
On BBC Sounds
Jenny discovers how to create a calm Chrstmas kitchen, how to cook pasta like an Italian granny, and which sticky orange fruit is ok to stick in a soup.
Latest features from BBC Scotland