Main content
Singapore Noodles
Jamie Oliver demonstrates a perfect money saving recipe
This is a wonderful classic that can easily embrace a host of leftovers and it can become a vegetarian option very simply.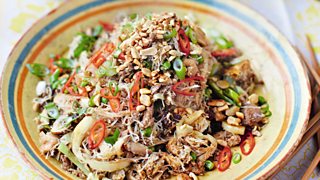 Sign up to the Cook the Perfect newsletter, or subscribe to our free download, to be kept up to date with all cookery items.
Ingredients
Serves 4 to 6
Total time: 30 minutes / 470 calories
225g fine rice noodles
1 tablespoon unsalted peanuts
150g minced pork
Olive oil
1 heaped teaspoon curry powder
1 level teaspoon Chinese five-spice
1 clove of garlic
1 thumb-sized piece of ginger
150g leftover cooked chicken
4 button or chestnut mushrooms
½ a white cabbage
150g frozen peeled cooked prawns
200g frozen peas
2 large eggs
Low-salt soy sauce
1 lime
1–2 fresh red chillies
4 spring onions
Preparation Method
Make sure you have all your ingredients lined up and ready to go. Put the noodles into a bowl, cover with boiling water, leave aside to rehydrate for 5 minutes, or until softened, then drain. Crush the peanuts in a pestle and mortar and toast in a large frying pan or wok on a medium heat until golden. Tip out and put aside, returning the pan to the heat. Put the minced pork in the pan with a lug of oil, the curry powder and five-spice. Stir and fry for 5 minutes, or until lightly golden, while you peel and finely chop the garlic and ginger, and slice the chicken, mushrooms and cabbage.
Keeping things moving, stir the garlic, ginger, chicken and prawns into the pan, followed a minute later by the mushrooms, cabbage and peas. Toss and cook for 4 minutes, then push everything to one side of the pan and crack the eggs into the gap – stir them around so they start to scramble and cook. Tip in the noodles, then toss everything together for a couple of minutes. Taste and season to perfection with soy sauce, then squeeze over the lime juice and tip on to a large platter. Trim, finely slice and sprinkle over the chilli and spring onions, scatter over the peanuts and eat right away.
© 2013, Jamie Oliver Enterprises Limited, Photography: David Loftus
More Food on the BBC
Browse our selection of recipes from top chefs, cooks and food writers who have joined us on Woman's Hour.