Main content
The making of...Ireland's Lost Babies
By Producer Director John O'Kane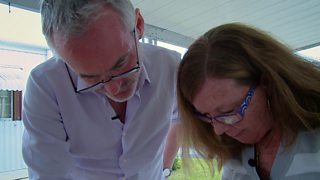 Martin Sixsmith and Cathy Deasy
I was asked by the Executive team of This World to meet Martin Sixsmith in London in December 2013 to find out more about the Philomena story, with a view to making a documentary that would go beyond the headlines the movie was generating. After Philomena had come out Martin had been contacted by many others who had similar stories to tell. At Martin's home he and I carefully picked through the letters and emails he'd received since the film had gone out and it was clear that there were many people tormented by what had happened to them and that the passage of time had not diminished their need to tell their stories and seek some form of justice.
We discussed the issues at length and the plan for our documentary became clear. We felt that people wanted to know more about the background to the story so we started to look at the Irish Catholic Church's role in this adoption trade, which saw thousands of illegitimate children taken from their mothers in Ireland and sent abroad in return for donations. We began in Ireland aiming to talk to some of the mothers who had contacted Martin, and then travel to the United States to find out how the lives of some of the children sent away turned out.
Research began straight away, and my colleague Elaine Forrester and I put the word out across Ireland and America that we were interested in talking to people. The reaction was immediate, and our inboxes pinged as we were contacted by people from America who had been sent to be adopted there as children. We talked to them for hours on the phone each evening because of the time difference with the UK. Many of their stories were similar – they wanted to find their birth mothers but felt the Catholic Church had been of little help, or they'd set out to find their mothers themselves. We sifted the stories attempting to make a representative selection, which would reflect what we had been finding.
But there was another development in our investigation, one that would ultimately change the course of the narrative of the film. Elaine, Martin and I headed to the west of Ireland for our very first day of filming in February.
We were there to interview local historian Catherine Corless. She had discovered that nearly 800 young children died from malnutrition and common diseases in a mother and baby home called St Mary's between 1925 and 1961. And she believed that the nuns buried many them in the unmarked mass grave on the site. After the home was demolished in the 1970's – the local council built houses on the site. But one area was left derelict. As we filmed members of the local community turned out – pleased that the BBC was taking such an interest in their story and Catherine's work.
Meanwhile in Ireland we were in contact with mothers who'd had to give their children away. There was only a small number of women who were willing to talk to us - but initially none would go on camera. The reason - we were to discover - was that many of the women still felt ashamed of having a child out of wedlock, even today. So many preferred to keep their experiences secret.
Over time we spoke to more mothers. Lily was forced to give up her son Joe to be adopted whilst she was at Castlepollard – one of the Catholic Church's homes for unmarried mothers.
A few years later after that she met the father of her child again, and they married. They had remained married until he died only a few months before and she was grieving.
So we planned the trip to America and made arrangements to talk to a number of adoptees across the country. Martin, of course, had another appointment, the Oscars. So we plotted our route, landing first in Boston for initial filming.
As we travelled across the states and met each adoptee one of the most fascinating things to emerge was their photo albums. Each of them had kept images of themselves which were taken by the nuns in the mother and baby homes. There was a striking similarity in the images – they were all posed.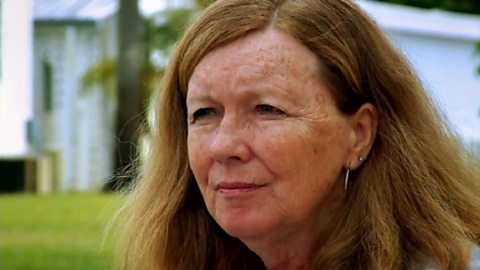 Journalist Martin Sixsmith flies to Florida to visit Cathy Deasy.
We made our way to California to meet a man who had a particular twist to his story. He and his twin sister had been taken from their mother and transported to America to be adopted.
But it was an American priest who'd made the arrangements and personally escorted them on the plane and gave them to his brother to adopt.
It emerged during our discussions with Mike Hawkes that his American family had been devastated by the eventual exposure of the priest – Monsignor Benjamin Hawkes – as a serial paedophile, one of the worst in the Los Angeles dioceses.
Mike had tried to trace his birth mother. But he had had little help from the Catholic Church. Tragically his mother died before he found out where she was.
Mike's interview was very moving especially when he showed us a photo of his mother he had just recently received – the first image of her he had seen in nearly fifty years. He told us he was coming to Ireland to see her grave for the first time very soon – so we arranged to hook up to film him during that trip to Dublin. That was a very moving scene to film – and for Elaine, Martin and I it was a privilege to be allowed to be there with Mike as he was experiencing all this for the first time – retuning to Ireland after nearly 50 years, and all he had was a grave.
It became so clear to us that what we were witnessing was the devastation caused to the mothers and the children through those years.
Back in Ireland we got to meet Lily. We drove to a hotel in the midlands area of Ireland. We waited nervously. At last she came – a dignified lady, her vulnerability and her own nervousness apparent. We sat down and had tea – and gradually she began to tell us her story. Tears appeared in her eyes and ran down her cheeks for the entirety of the meeting. It was one of the most moving experiences Elaine and I had ever had as film-makers. Her story was so powerful and so tragic.
I tentatively broached the subject of whether she would be prepared to do an interview with us. Lily agreed and in perhaps one of the most memorable interviews I have ever recorded Lily revealed all the feelings buried inside her for 50 years about being forced to give away her son Joe to be adopted in America, and her failed attempt to be reunited with him.
Then Lily took a huge step on camera – she called America to make one more attempt to meet her son. Sadly that would not happen. According to Lily the intermediary contact she is liaising with may have spoken to him but hasn't yet clarified what has happened.
We independently tracked Lily's son Joe down in America. Elaine and I had to make a very difficult trip to Lily's home to give her some news; that her son told us did not want to talk at the moment.
In the final stages of making the film we asked the head of the Catholic Church in Ireland to do an interview. He declined, and so too did the Order of nuns who ran the mother and baby homes that we featured in the programme. Ireland's Prime minister also declined to be interviewed.
The government has now ordered a police report on the deaths of the almost 800 children at the St Marys home. And it's launching a wider investigation into what was going on in all of Ireland's mother and baby homes as well as the whole adoption process.