Main content
BBC Wales Sports Personality of the Year / Personoliaeth Chwaraeon y Flwyddyn BBC Cymru
This vote has now closed. Results will be available on the BBC Sport Wales website from 9pm onward on the 4th of December.
Gareth Bale (football/pêl-droed)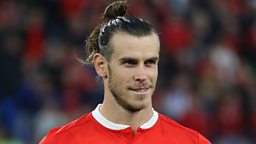 Continued to stake his claim to become arguably Wales' greatest footballer. He surpassed Ian Rush's 28 goals for Wales with a hat-trick against China to become Wales' all-time leading scorer. Coming off the bench he scored two goals, including a phenomenal overhead kick, to win the Champions League for Real Madrid.
Seren Real Madrid yw prif sgoriwr tîm dynion Cymru erioed wedi iddo basio record Ian Rush o 28 gôl gyda hat-tric yn erbyn China ym mis Mawrth. Llwyddodd hefyd i sgorio ddwywaith ar ôl dod oddi ar y fainc i ennill Cynghrair y Pencampwyr i Real Madrid am y trydydd tro yn olynol.
Elinor Barker (cycling/seiclo)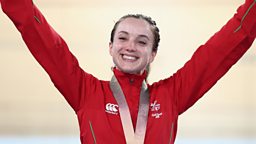 Began the year with a silver medal in the women's team pursuit at the Track Cycling World Championships. She took gold in the women's points race at the Commonwealth Games, improving on her silver four years earlier. She would also help Team GB win gold in the team pursuit at the European Track Championships.
Dechreuodd y flwyddyn gyda medal arian yn y ras cwrso tîm ym Mhencampwriaethau Seiclo Trac y Byd. Aeth ymlaen i ennill aur dros Gymru yn y ras bwyntiau yng Ngemau'r Gymanwlad, cyn helpu Prydain i ennill medal aur yn y ras cwrso tîm ym Mhencampwriaethau Trac Ewrop.
Laura Deas (skeleton/sled sgerbwd)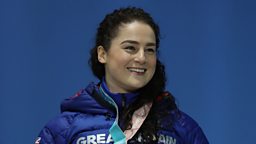 Was named in her first Olympic team in 2018, competing in the Winter Olympics in Pyeongchang, South Korea. She brought home a bronze in the skeleton to become Wales' first Winter Olympics medallist.
Cafodd ei henwi yn nhîm Prydain am y tro cyntaf ar gyfer Gemau Olympaidd y Gaeaf yn PyeongChang, De Corea ddechrau'r flwyddyn. Llwyddodd i ennill medal efydd yn y sled sgerbwd, gan fod y person cyntaf erioed o Gymru i ennill medal yn y gemau.
Menna Fitzpatrick (skiing/sgïo)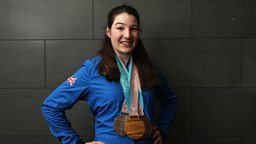 Competing in the Winter Paralympics in Pyeongchang, the visually impaired skier - along with guide Jen Kehoe - brought home four medals, including gold in the slalom. With two silvers and a bronze to add to her slalom title at the 2018 Games, she became Britain's most successful Winter Paralympian.
Fe wnaeth y sgïwr, sy'n rhannol ddall, ennill pedair medal yng Ngemau Paralympaidd y Gaeaf yn PyeongChang gyda'i thywysydd Jen Kehoe. Roedd rhain yn cynnwys un aur, dwy arian ac un efydd. Hi nawr yw'r person mwyaf llwyddiannus erioed o Brydain yng Ngemau Paralympaidd y Gaeaf.
Geraint Thomas (cycling/seiclo)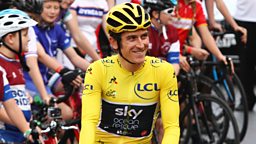 Became the first Welshman, and just the third Briton, to claim road cycling's biggest prize when he won the Tour de France in 2018. In contention from the start, during the gruelling three-week race he become the first British rider to win on the fabled peaks of Alpe d'Huez on stage 12.
Llwyddodd i ennill y Tour de France - y Cymro cyntaf i wneud hynny yn hanes 105 mlynedd y ras. Dros y ras tair wythnos llwyddodd i ennill dau gymal, gan gynnwys bod y Prydeiniwr cyntaf erioed i ennill ar gopa'r Alpe d'Huez.
Mark Williams (snooker/snwcer)
Rolled back the years to win the World Snooker Championship for the third time with a dramatic 18-16 victory over former world number one John Higgins at the Crucible. The victory came an incredible 15 years after Williams last claimed the title.
Chwaraeodd, o bosib, snwcer gorau ei yrfa ag yntau'n 43 oed er mwyn ennill Pencampwriaeth Snwcer y Byd am y trydydd tro. Daeth hynny 15 mlynedd ar ôl iddo ei hennill ddiwethaf, ac 18 mlynedd ar ôl iddo ei hennill am y tro cyntaf.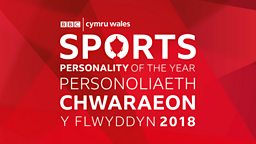 Terms & Conditions / Telerau ac Amodau