Main content
The Witterlist - 19th July 2019
Just as the circle of life moves us all, the circle of seasons moves Mark and Simon towards their summer holidays. Before they headed off on another cruise though, they just had time to get their teeth into Disney's latest big-budget reimagining of one of their classic cartoons.
If you've missed a show or just want to revisit some of our premium movie content, you can find highlights of all of our programmes on our dedicated Witterlist page.
The Interview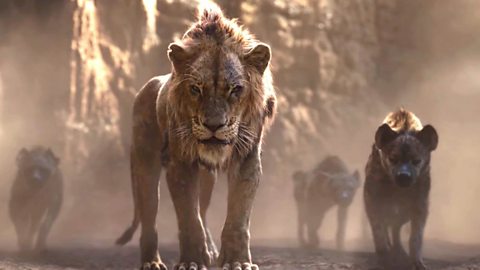 Chiwetel Ejiofor talks to Simon Mayo about his villainous new role in The Lion King.
Chiwetel Ejiofor takes over from Jeremy Irons in Disney's CGI-reworking of The Lion King, voicing the villainous Scar. He talked to Simon this week about how we can define the new film – animation? Live action? – getting into the psychology of his character and why it means so much that the film has a majority black cast.
The technical accomplishments of Jon Favreau's new Lion King are undoubtedly astonishing, with lion's fur that it looks like you could run your fingers through. But Mark was left wondering, is photorealistic animation the right way to go when you're dealing with a fantastical story?
Gwen is a Welsh folk tale set in the hills of Snowdonia in the 19th Century. It's a strange, atmospheric film where you can feel the wet chill of the world right down to your bones, building on the sense of impending dread that makes the film so gripping.
Mark doesn't usually have anymore to do with cricket than having to pause his reviews for a wicket update, but Barney Douglas's new documentary, which tells the story of the England Test cricket teams rise to glory between 2009 and 2013, had even the Good Doctor taken in by the drama (perhaps aided by Toby Jones's narration).
Based on the novel by Fiona Shaw (not that one) Tell It To The Bees stars Anna Paquin as a doctor in a small town in 1950s Britain who begins a passionate romance with a young patient's mother (Holliday Grainger). With a whimsical tone that clashes with its weighty subjects of homophobia, racism and domestic abuse, the film doesn't quite pull together into a cohesive whole, despite some strong moments.
The Wedding Guest is a mystery thriller written and directed by Michael Winterbottom and starring Dev Patel. Full of twists and turns from start to finish, Mark was totally gripped and won over by the script, direction, performances and score.
Next week
Next week of course, Mark and Simon depart for this week's cruise. But the show will be in good hands while they're away, starting next week when we have Ben Bailey Smith and Clarisse Loughrey taking the reins to review Animals, The Angry Birds Movie 2 and Fast & Furious spin off Hobbs & Shaw.
Mark Kermode joins Simon Mayo to give his verdict on the week's movies