Main content
Eight TV shows to get addicted to now Game of Thrones has gone (for now)
Still missing Game Of Thrones? Don't panic. Radio 1's Ali Plumb is on hand with eight must-watch TV shows to get you through the current lack of Westeros action.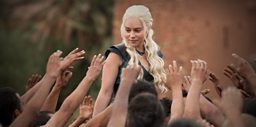 Credit: HBO
Season six of Game of Thrones has finished. There will be no more news from Westeros until April 2017, which means there are nine or so months a-coming that are totally GoT free. You are now sans Cersei, without wyverns and totally devoid of Daenerys. Good luck out there.
It's enough to make you want to gargle wildfire, so to soothe your pain, here are seven suggestions for other TV shows to binge while we're waiting. What's more, they're all from off the beaten path, so don't go expecting 'classic' suggestions like The Wire, or Buffy the Vampire Slayer, or Breaking Bad (brilliant though they may be).
Please note: my choices have nothing to do with Game of Thrones – no fantasy elements, no feuding families, no dragons. Because, you know, how could they compare?
The Flash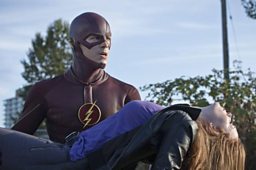 Credit: The CW Television Network
Okay, this isn't that obscure, but for some reason not enough people are watching The New Adventures Of Barry Allen, and maybe it's time you became a Flasher. So to speak.
Originally a spinoff of CW's Arrow show, this is another superhero series inspired by a key part of DC Comics' back catalogue, namely, um, The Flash – AKA the fastest man alive. Silly, funny and delightfully goofy, there's something about this show that's just so much fun. It's probably the adorabrilliance of its star, Grant Gustin, whose gawky good looks would make him the perfect Spider-Man… if he wasn't already The Flash, of course.
Fleabag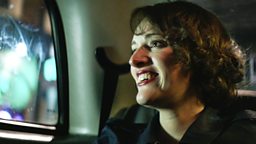 Credit: BBC Three
Trying to describe filthier-than-thou fourth wall-breaking sitcom Fleabag without swearing is like swimming without getting wet, but here goes. Fleabag is… a brutally honest, darker-than-dark story about a messed-up thirty-something (writer and star Phoebe Waller-Bridge) dealing with her wet-but-lovely boyfriend, her own sexual addiction, her despicably "nice" stepmother (Olivia Colman) and, well, life.
Perhaps the very definition of Not Suitable For Work, this is a confident and grim look at depression and love, somehow making you laugh and despair. In a good way.
Preacher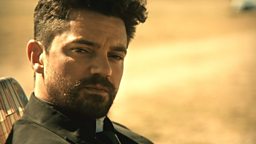 Credit: AMC Studios
Another comic book adaptation, though you probably shouldn't call Preacher a comic book – this is a graphic novel, with heavy emphasis on 'graphic'. From the superbly deranged minds of Garth Ennis and Steve Dillon, this has been brought to the small screen by some of the Breaking Bad team, as well as loveable Hollywood beardy-man Seth Rogen.
So expect dark comedy, a bit of ultra-violence and some very good writing, showing off the underappreciated acting talent of Ruth Negga, Joseph Gilgun and Dominic Cooper. Oh, and I should also mention that it's about a heavenly entity that enters the soul of a Deep South preacher, giving him the ability to command anyone to do anything. Also angels want to get it back, and then there's a god-like bounty hunter called The Saint Of Killers… you know what? You're best off just watching it.
In a world where everything feels like a reboot or a sequel, there's occasionally something thoroughly odd and undeniably brilliant to enjoy – like Stranger Things, for example. A throwback to '80s Hollywood, Stephen King novels and good old-fashioned Government conspiracies, it tells the story of a young Indiana kid that disappears after a monster engulfs him. Accompanied by a mysterious girl with incredible powers, his friends desperately try to find out what really happened, while his mother, played by Winona Ryder, casually loses her mind.
If you're wondering who'll be winning Oscars in ten years' time, make a note of Stranger Things' incredible young cast, including Finn Wolfhard (amazing name), Millie Bobbie Brown, Gaten Materazzo and Caleb McClaughlin, who'll be cropping up in other critically-acclaimed fare sooner rather than later.
The Jinx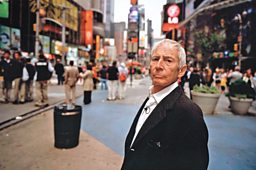 Credit: HBO Documentary Films
The trick about The Jinx is to say nothing about it other than this: it's good. Really good.
All right, all right, here's a little bit more information. Its full title is The Jinx: The Life and Deaths of Robert Durst, and it's a documentary miniseries centring on an accused murderer, and how he could have done it, or could not have done it, or, or, or… it's one of those.
In fact, if you're a fan of the likes of ground-breaking journalism podcast Serial or Netflix's similarly jaw-dropping Making A Murderer, this is an immediate must watch. If you're not a fan of those two also-brilliant things, go watch (and/or listen) to them first, then get your hands on The Jinx as soon as is physically possible, before spoilers strike.
Silicon Valley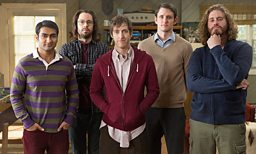 Credit: 3 Arts Entertainment
Though critics have been fawning over it in the US for a good few years now, start-up company sitcom Silicon Valley hasn't cracked the UK the way other American 30-minute comedies have – like, say, Brooklyn Nine-Nine or How I Met Your Mother – and it's time that changed. A bit.
Feeling like the much more grown-up version of The Big Bang Theory, it tells the story of six or so hapless (but highly intelligent) nerds trying to not get swallowed up by capitalism as they bring some compression software to market. Okay, it's more exciting than that sounds, with performances by leads Thomas Middleditch and TJ Miller (who you may recognise as Weasel from Deadpool) standing out. Oh, and it's from Mike Judge, who previously brought us Brevis and Butt-Head and Office Space, so you know it's good.
The Venture Bros.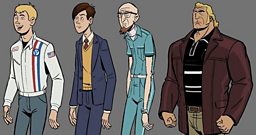 Credit: Cartoon Network
This is where things get really weird. From the mad, mad, mad, mad world of US cable channel Adult Swim, this is another cartoon series definitely not aimed at kids. Think Archer, Family Guy, or – if you're really into Adult Swim – other animated stablemates Frisky Dingo, Aqua Teen Hunger Force and Rick And Morty (all of which are very much worth your time, incidentally).
But anyway, The Venture Bros. On the surface, this is a parody of the 1960s Johnny Quest series, with a dysfunctional family trying to thwart the efforts of a preposterous supervillain, most often the butterfly-themed "The Monarch". It's silly, it's stupid, it's 'subversive', and if you're a fan of the similarly offbeat cartoon The Tick – also featuring superheroes and supervillains – you've got to seek this one out.
By the way, if you're looking for a cartoon aimed at adults that's significantly lighter in tone, I recommended We Bare Bears, which is about three talking bears flatsharing in a cave, and is about as silly as that sounds.
Happy Valley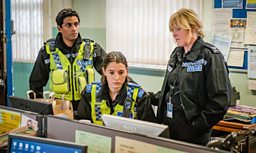 Credit: BBC
For some unforgiveable reason, Happy Valley isn't celebrated the world over as one of the best cop shows on TV right now – if you can even call it 'a cop show'. Superb performances, BAFTA-winning writing, stunning cinematography… it's little wonder it's currently sitting at 100% on Rotten Tomatoes and a third series is currently being discussed.
Created and written by Sally Wainwright, this is distinctly different in tone to her other big hit, Last Tango In Halifax, though both are set in Yorkshire's Calder Valley. This, without giving anything away, is like The Coen Brothers' Fargo: a twisted tale of abduction, family and out-and-out evil… only in Sowerby Bridge. Star Sarah Lancashire, playing hard-bitten police sergeant Catherine Cawood, is particularly brilliant.