Main content
Mission accomplished! How Apollo beat Carbide to win Robot Wars
An interview with Apollo's captain and driver, Dave Young, after their epic grand final battle.
How did the team prepare for the final battle?
The build-up for the final was a very exciting time.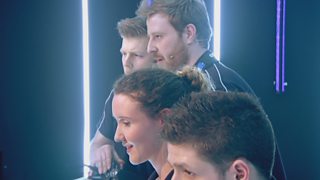 The moment Carbide realised their lethal spinner had stopped working
After a while we heard the words we wanted to hear: "The disk is dead".
We used our free time to repair bits of damage from our early fight with carbide. We'd watched a few of Carbide's earlier fights and noticed that, although its weapon is amazing, it could be unreliable.
So, we decided that our plan would be to drive straight into the destructive disk and keep hitting it, constantly, with the hope we'd cause more damage to Carbide than it would cause to us.
We stuck to our plan and from the start of the fight drove straight into its disk, trying to prevent it getting to full speed. We tried our best to do this as often as we could and get in as many flips in as possible. After a while, we heard the words we wanted to hear: "The disk is dead".
After that, we tried to flip Carbide over the lower walls a few times, but Dave [Mould, Carbide's captain] is a very good driver and made it very difficult for us!
Then our attacks on the house robots came back to haunt us
Our flipper was jamming. A few bangs and we knew it would drop back down, but we had no way of pushing it back down. This is where Shunt came in to help.
Even though we had thrown him over earlier, we decided to drive into the Corner Patrol Zone purposely and take a hit from the powerful axe of Shunt. Success! The hits from Shunt knocked the flipper back down and we were back in action.

Before we knew it, cease was called. We thought we might have edged the result and we jumped up and down in the box — more relief than anything else.
Waiting for the judges decision, I stood there and looked at a very sorry-looking Apollo. Maybe we had taken more damage than we had initially thought, and maybe this would change things.
In past series, of Robot Wars we have seen titles won and lost on a few counts of damage. But it wasn't to be this time. Dara handed us the trophy and we couldn't have been happier! Out of 40 robots, a team of three Bluecoats that no one took seriously in the pits at first had won Robot Wars.
We never expected to get this far and would have been happy with just getting past the first round.
"And Carbide are in real trouble!"