Main content
'Sharing my mental health struggles on Instagram has been life-changing'
From comparison anxiety to FOMO, the downside of scrolling through too many 'perfect' selfies online is now well-documented. In fact, recent study #statusofmind found that photo-haven Instagram was the most negative social media platform when it came to young people's mental health and wellbeing.
But for many young women it's also home to a supportive community, a place to make friends and start serious conversations about issues like mental health. Award-winning blogger Kay, 22, is one of them. Taking over the @BBCWomansHour Instagram account this week, she told us how she's been using the platform to aid her recovery from agoraphobia, eating disorders and PTSD…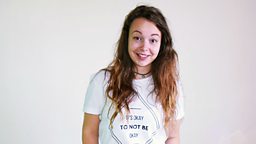 I've been able to share my experiences with other people
I grew up in a domestic violence environment and got bullied a lot for my looks and for where I'm from (we made a big transition from Poland to the UK when I was 12). From a very young age I struggled with mental health and anxiety - I had panic attacks from about the age of 9 - and unfortunately I had no idea what was going on with me. I just didn't feel well. I was told I was 'very sensitive' and 'nervous', but mental health wasn't talked about at all.
From childhood I've experienced PTSD, Post Traumatic Stress Disorder, and - because of that - different things like anxiety, depression, eating disorders, dissociation, OCD, have come along with it. So I struggled for a very long time and I only got diagnosed last year when I sought help. I've overcome a lot already and I want to share that with people.
I love meeting and connecting with new souls
Struggling with agoraphobia really made me refocus on where my life was heading and I'm still very much in recovery at this point. But I'm happier than I've ever been before doing this, which I'm so passionate about!
This year I feel like I've grown so much and been able to share a different part of myself and my recovery. I'm in a much better place than I have been and a lot of that's thanks to the support and the people I've met from Instagram.
I want other people to share their stories
I'm passionate about ending the stigma around mental health, which is why I started a blog and account where people can share their stories @mh_stories_. I wanted people to be very visual and to share a picture of themselves to get rid of the stigma, to show that anyone can be affected by mental health – it doesn't matter the gender, the age and the background.
We can't compare someone else's life on social media to our own
I share my good days and my bad days, because I don't want my followers to think that my life is so perfect, or I put a filter on my life, when it's actually not.
So if people who follow those [feeds full of perfect images] find my account, they can have a realisation that it's ok to not be filtered. It's ok to just express yourself authentically.
It's our choice how we use our social media
I choose to follow the people I do, I choose what I want to see on my feed. I have transformed my Instagram experience from one I felt was really bad for my mental health to a more positive one; one that's now part of my recovery, growth and learning.
I've chosen this platform to express myself and I've always tried to be really authentic and I think people appreciate that, because they can relate to my struggles, the things that I've learned and the mistakes I've made.
Any pressure I have is only the pressure I put on myself
Mostly I've found that the people who follow me are mental health supporters, they're advocates, and they understand that we need to put our mental health first. So I don't feel pressure from them or a responsibility to reply to everyone straight away. And I don't have to answer or reply to every single person. But I feel like my followers understand, because it really is about looking after yourself first. And the more I do that, the more I'm able to give on social media and the more I'm able to help other people.
It's made me feel so much less alone in the struggles I've been facing
Having a community of support on Instagram has had a profound effect on me; people who are there for me on my good days to celebrate, and on my more challenging days to offer support. It feels great to be a part of such a wonderful community where I've been able to make so many friends.
Sharing my story has really been life-changing! Knowing that through my story, my journey, I'm able to help so many people out there really is the most amazing feeling!