Main content
How Introducing kickstarted the careers of your favourite musicians
By Fraser McAlpine (Wednesday 4th October 2017)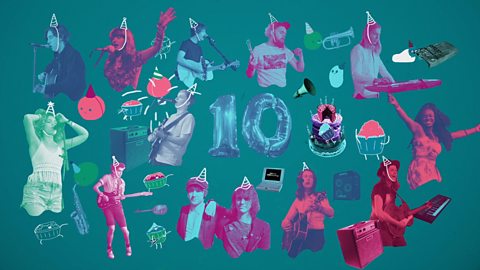 The last 10 years of BBC Music Introducing have been a blast. Here's to the next 10!
BBC Music Introducing celebrated 10 years of steadfast support for up and coming artists in 2017 with a big birthday bash - BBC Music Introducing Live - at London's O2 Academy Brixton. It was partly a hat-tip to all the singers and musicians who have sent their songs in for consideration, and partly a celebration of some of Introducing's biggest success stories, including George Ezra, Slaves and Blossoms.

Of course, these acts - singular and wonderful as they are - would always have made waves on their own, but some of the earlier upward steps will have been made a little easier thanks to exposure on BBC Music Introducing radio shows, both locally and nationally.

Here's 10 of Introducing's greatest hits:
Slaves are the product of the chemistry between two men and their audience. Isaac and Laurie first uploaded the song White Knuckle Ride, to the Kent Introducing show back in 2012. Their feral racket instantly stood out, and in 2013 they were invited to film a special Introducing session at the BBC's Maida Vale studios, and took to the Introducing stage at Reading + Leeds, in support of their debut album Are You Satisfied?
Another band with a skyrocketing profile, Blossoms began their BBC Music Introducing journey after uploading Blow to BBC Introducing in Manchester in 2013. Having built up a strong local following, they found themselves playlisted by Radio 1 as their Introducing act of the week, and in 2015, even took part on the BBC Music Introducing showcase at the prestigious SXSW festival in Texas.
When asked to play at BBC Music Introducing Live, the band said: "The BBC plays a significant part in everybody's lives in one way or another, but BBC Music Introducing (specifically) has certainly played a colossal part in ours, especially in our embryonic stage, and has continued to support us throughout. They provide a service like no other and are at the forefront when it comes to championing and nurturing new talent."