Main content
BBC One - Comic Relief 2017
Thank You!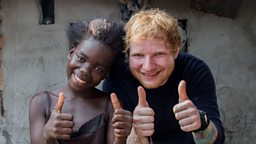 Thanks to your incredible generosity, you've helped to raise a staggering £73,026,234 so far. That money will now be put to work, transforming lives across the UK and the world's poorest communities.
Pay in the money you raised
You've done the hard work, now the sooner you pay in the life-changing cash you raised, the sooner we can put it to work. It's quick and easy to do.
See the difference you make
The money you raise for Red Nose Day does incredible things, both in at home in the UK and across the world's poorest communities. How incredible? See for yourself.
You've raised the cash, now bask in the glory. Upload your pictures and show us, and the world, what you got up to this Red Nose Day.

Want to have brunch with seven Doctor Whos all at once?! This is your chance.