Main content
Edward Kelsey (Joe Grundy)
Edward (known as "Ted") Kelsey, who played Joe Grundy for 34 years, has died.
Editor of The Archers Jeremy Howe said:
"Ted's time in Ambridge gave us one of the great performances in the history of British radio – idiosyncratic, warm, cantankerous yet generous, dripping with the Grundy magic and wonderfully funny. Ted's Joe Grundy was a brilliant creation because Ted was a brilliant actor - and a truly lovely man and great company member. A cherished part of our team, I am sure all of us will agree that working with Ted was a rare privilege and he will be very much missed. "
Edward Kelsey (Joe Grundy)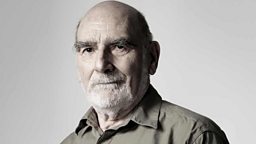 Edward ("Ted") Kelsey was born in Petersfield, Hampshire in 1930 to a dressmaking mother. He attended medical school but soon realised that what he really wanted to do was act, so he gained a place at drama school instead. Having trained at the Royal Academy of Music he went on to win the prestigious Carleton Hobbs Award that gave him a six month contract on the BBC Radio Drama Rep. Ted had a brilliant vocal technique. He never lost his love of radio both as an actor and writer. In 1985 he took over from Haydn Jones as the great Grundy patriarch, Joe, a part he has played ever since, recording his last scenes in April this year; which listeners will hear in the coming weeks.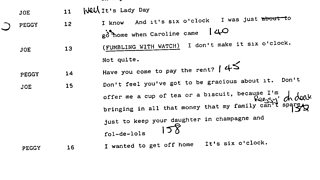 An extract from Ted's first script from 26 March 1985
He was also the voice of Mr Growbag in Wallace and Gromit's Curse of the Were-Rabbit, Colonel K and Baron Greenback in Danger Mouse. He appeared in countless radio dramas over the years, and in The Vicar of Dibley, Doctor Who, The Avengers, Z Cars, Minder, Casualty, The Saint and many other TV dramas. He served on the Equity Council and was an Associate of the Royal Academy of Music. In both roles he took a keen interest in the training of performers.
Edward's first appearance as Joe Grundy was in March 1985, in a storyline which involved raiding his son and partner-in-crime Eddie's cash box for dubious motives. The tone was set for years of mischief and misadventure for lovable rogue Joe as listeners followed his moneymaking schemes, some wild, some barely on the edge of legal, but all delivered with irresistible warmth and a worldly wisdom that was uniquely Joe. Known for his loathing of duvets (he slept under a blanket), and his penchant for Vera Lynn, Joe was nevertheless at the cutting edge of 1980s technology when he ventured into the world of computer dating. A surprisingly good listener, Joe comforted many a troubled Ambridge resident over a pint of delicious Borsetshire Beauty cider. From 'Joe's Jottings' on Radio Borsetshire (his slot was a roaring success, though his anecdotes may not always have been original) to his ever present 'Farmer's Lung' (Joe was arguably the laziest farmer in Ambridge), Joe made his mark as one of the programme's best loved and most memorable characters. Last year Joe was put out when Kenton refused to take his job application seriously as relief barman. His son asked him how much experience he had: "Years" he replied. "Of bartending?..." "Of alcoholic beverages generally." Joe was a keen imbiber.
Speaking in 2013, Edward said of sharing his life with Joe: "It's amazing. I do seem to slip into it very naturally. I don't know what that means!" Of his character he observed "Joe has mellowed. As a great-grandfather, he's more concerned about the future for his offspring than himself… I don't think he was ever wicked, he was just after the main chance."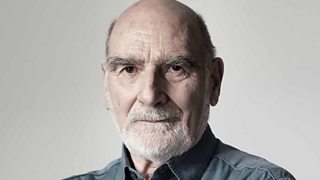 His family said: "Ted counted himself immensely lucky that he was able to enjoy a long and varied career doing the thing that he loved, entertaining an audience, and fortunate indeed to have met and worked with so many talented, generous, creative people along the way. He embodied the principle that the show must always go on - his chief concern through increasing ill health the need to convince medical staff he was fit enough to record with his 'extended family' in Birmingham.
"He had an insatiably curious mind and never lost his appetite for lively conversation, good company and, of course, a great storyline."

In real life Ted was anything but Joe Grundy – softly spoken, a gentleman, generous and warm. Perhaps the only traits he shared with the character he played so brilliantly over thirty plus years were his love of family and a brilliant wit.
"When I took over at Ambridge last year," said Jeremy Howe, "the first thing Ted said to me was that he wanted Joe to get his telegram from the Queen on his hundredth birthday. Joe Grundy's 98th birthday is in September this year. I am heartbroken that Joe will never now get that telegram."