Main content
10 things we learned from Naomi Klein's Desert Island Discs
Global activist, writer, journalist and film-maker, Naomi Klein is a leading light in the critical analysis of contemporary capitalism, a prominent activist in the fight against climate change, and frequently ranked as one of the world's most influential thinkers. She is best known for her books including No Logo, which tackled the adverse effects of brand-orientated global corporate capitalism and shot her instantly into the limelight. As well as winning many prizes for her writing, in 2016 she was awarded the Sydney Peace Prize for her work exposing the causes of the climate crisis. Here are ten things we learned from her Desert Island Discs.
1. Humour was a big part of her first job in journalism
As a fierce global activist and intellectual, she is often perceived as a very serious person. She points out that at the start of her journalistic career working for The Toronto Star half of her columns were humorous, and that back then she was regarded as much less of a serious person than she is now. She lays part of the blame for this with social media where it is increasingly difficult to joke.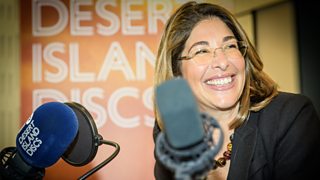 Naomi Klein: "My rebellion was being a child of the eighties"
2. She comes from a family of activists
Her grandfather worked as an animator for Walt Disney and was instrumental in the organisation of the first ever strikes there to protect workers' rights which resulted in him being fired, and then blacklisted. Her mother was a feminist filmmaker, her father was a draft dodger, and both were actively against the war in Vietnam. This led to them eventually leaving the U.S. and moving to Canada where Naomi was born and raised.
3. She was a "teenybopper"
Growing up she was not a politically driven person, and shied away from her parent's activism. "My rebellion was being a child of the eighties" – all she wanted was to be "a teenybopper", which horrified her parents and caused a lot of conflict within her family.
4. She became her mother's carer for a year
Her mother suffered a series of strokes when only 46 whilst Naomi was still relatively young at 17. She became her mother's carer for a year, which had a huge impact on her teenage life at the time, making her less self-absorbed and bringing her closer to her mother. It was her first wake-up call.
5. Her political awakening came from the 1989 Montreal massacre
Naomi's second wake-up call came at the age of 19 when a gunman killed 14 women at the university school of engineering. After gaining access to the school, he segregated the women from the men calling them "F-ing feminists", then shot them after claiming he had been refused a place at the school because of an affirmative action policy. This instantly shocked and angered Naomi, mainly because it was reported as a non-political attack, and she immediately reacted by organising a feminist support meeting. She didn't bargain on how successful they would be with hundreds of people turning out for the event.
6. She prefers writing to marching
Although an activist, she claims "I'm not a big marcher, writing was always my tool" and at heart says she is not an exhibitionist like her parents, but more self-conscious, working better in isolation. She feels her books are not there to change the world – "books don't change the world, movements do" – but are there to generate a new language, which can inspire others to change the world. She hates the arrogance of one big idea generated by one person and believes change can only happen through democratically made decisions, and that rallying against injustices within the system is important, but an alternative vision must always be posited – "we actually have to propose what we want instead".
Books don't change the world, movements do"
7. On marriage
She is happily married to Avi Lewis, a TV journalist and documentary filmmaker, but doesn't wear a wedding ring. This isn't because of her "no logo" ideology, she says, "I just don't wear rings".
8. On children
She was originally ambivalent about having children due to the hectic and challenging nature of her activities – she cites travelling to dangerous places like Baghdad as being worryingly inconsistent with her idea of motherhood at the time – but later changed her opinion and eventually had a son, Toma, at the age of 42 after four years of miscarriages, and failed IVF treatment. She went on to write about her difficult experiences during this period in her book about climate change This Changes Everything. Learning about the concepts of geo-engineering and what she felt was the unhealthy "idea that there is nothing we can't solve with technology and drugs" was similarly applied in the treatment of her body and its system failures at this time.
9. Is she immune to consumerism?
No. Although against consumerism, she freely admits to not being "apart from the culture I'm critiquing". She goes on to say that if the price of admission to having a critical analysis is our own perfection, then there would only be a handful of people eligible to join the debate, or participate in any movement to change things.
10. She is less optimistic about the future of climate change
She feels less optimistic about the possibility of successfully tackling the climate crisis than she did even a year ago, and holds a core belief that attitudes to climate change need to stem from a more humane society, the value of human life needs to be at the forefront of this, and for this reason she is not despairing – "despair is a luxury".
More from Desert Island Discs
Featuring Nicole Kidman, Paul Greengrass and George Clooney.

Ottolenghi, Nigella, Jamie, and fellow foodies talk about love, dreams and cream cakes.