Main content
Mary Beard vs hair dye
When making Radio 4 documentary Glad to Be Grey on a subject close to her heart, the writer and academic had a consultation with a legendary hair-colourist. She found the results unexpected.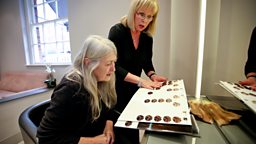 I have found myself in all kinds of surprising locations when I've been making BBC programmes, but I've never been quite so surprised as last week – when I found myself in Mayfair, standing outside one of London's most upmarket and pricey hair salons. It is not my usual habitat. But I was making a Radio 4 documentary on a subject close to my heart: grey hair and why most of us are so keen to cover it up. And I had come to interview the legendary Jo Hansford, one of the most expert hair colourists in the country, if not the world.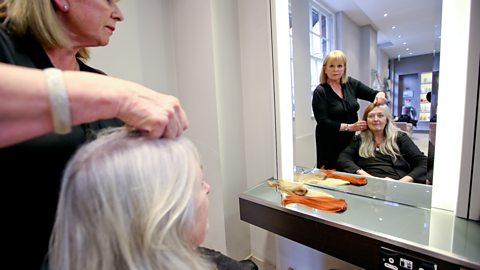 Mary starts her investigation with a consultation with Jo Hansford
Jo works on a glittering range of celebrities, from Nigella Lawson to the Duchess of Cornwall. It is said that women fly in from as far afield as the USA and Dubai to have the Hansford colour treatment. I was rather afraid that we weren't exactly going to hit it off. I have long grey hair, which I have never coloured, for a variety of reasons. Partly I don't like the idea of covering up my age. I'm 61. I'm grey and happy. Why pretend that I still have the same hair as I had 30 years ago? Partly I resent the time, money and commitment that colouring would take. The idea of being obliged to turn up at the salon every six weeks or so – or else risk the disguise being ruined by the appearance of those tell-tale white roots – fills me with dread. But I didn't think that Jo was likely to see it this way.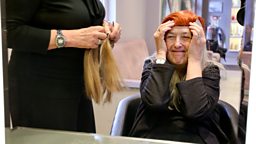 I was right, she didn't. I started by asking her tentatively what she would advise if I came in to consult her on my flowing grey locks. Without a moment's hesitation she said that I definitely needed something doing. If I were to have them coloured (and probably get a good trim too), I would walk out looking 10 years younger. Everyone who went grey, she insisted, should opt for a new colour. There was absolutely nothing to be said for staying grey at all.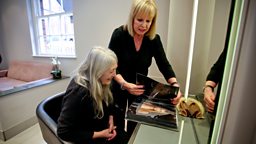 But I needn't have been apprehensive. Despite our very different standpoints on my 'look', we got on like a house on fire, and the interview came close to being a genuine and good-humoured consultation. I certainly wasn't about to change my mind and opt for colouring. But I was gripped as Jo explained to me exactly how she would help me to pick a new tint (not too warm, else it would make my skin look too pink, she warned). And we were both in stitches when she showed me, with some big trial swatches of hair, Donald Trump style, just how wrong some colour choices would be.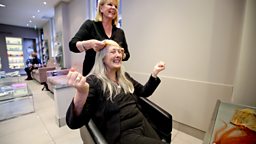 And I like to think that she got some fun out of listening to my reasons for staying grey. I don't imagine many women cross the threshold of the Jo Hansford Salon and start sounding off about how they think grey hair is a great celebration of "maturity" and how colouring is a form of deception and fakery.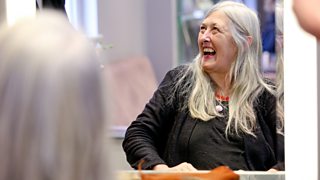 We parted with honours even, I think. Or perhaps Jo got the edge. As I left, she called out: "When we get to heaven, then I'll make you blonde...".
Listen to the documentary Glad to Be Grey on Radio 4 on Friday 4 March at 11am and then online.
More from Seriously...
The team of recovering addicts who made their mark on cinematic history.

David Aaronovitch on how an Eastern political tract became a Western icon.

David Bowie's interviews reveal his humour, passion and determination to succeed.

Did Nazi leader Hermann Goering have a brother who saved innocent lives from the Holocaust?

A selection of great female authors who have radically altered the genre.

Dream away those mid-winter blues by pondering our selection of fantasy idylls.

Mat Fraser meets the former striptease stars back on the stage in their 70s and 80s.

The legendary radio maker recommends seven great documentaries for Seriously...

A poetic retelling of the Orpheus myth, from the celebrated writer Neil Gaiman.

An aspiring singer-songwriter meets the man who predicted the demise of the music industry decades ago.

What have you learned from our documentaries? Try our fiendishly difficult quiz...

Kellie Redmond explores Disney's fascinating contribution to the war effort.

The Simpsons star, satirist and actor reflects on the flood that devastated his home town of New Orleans.

Meet five codebreaking women who helped beat the Nazis and are still alive to tell their tales.

Seven reasons to love the modern melodic drum that creates a haunting tone.

The award-winning writer on porpoise dissections, stranded whales and beached dolphins.