Main content
11 things we learned from Harry Enfield's Private Passions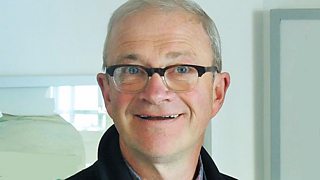 Man of many parts – Harry Enfield. Photo © BBC
In the early 1990s Harry Enfield went from being a part-time milkman to one of the country's biggest comedy stars. His television shows – including Harry Enfield's Television Programme and Harry & Paul – reinvigorated British sketch comedy, gaining him more than 13 million viewers a week. Along with his comedy partner of nearly 30 years, Paul Whitehouse, Harry created characters that have become embedded in our national psyche – from Loadsamoney to Tim Nice-But-Dim.
Here are eleven surprising things we learned from his Private Passions interview with Michael Berkeley.
1. He was even worse as a teen than his comedy creation, Kevin
One of Harry's most popular and enduring characters is Kevin the Teenager – the 13-year-old with a backwards cap, floppy red hair and despairing parents. "I was a nice child," says the comedian, but "as a teenager I was pretty horrible… I was definitely worse than Kevin."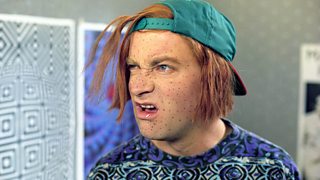 'That is so UNFAIR!' – Harry's comedy creation, hormonal teenager Kevin. Photo © BBC
Like his screen creation, he often resorted to shouting: "There was the odd time when I really was in quite a lot of trouble where I found the best defence was to shout really loud at my parents and slam the door, and use every word I could think of that they hated, and then I knew they would be so full of rage they'd leave me alone for a couple of hours."
2. His grandparents were dissed in Virginia Woolf's diaries
Harry's paternal grandparents, "The Enfields", were acquaintances of Virginia Woolf and even get a mention in her writing. The comedian recalls browsing in a bookshop in Bloomsbury when he came across old copies of Woolf's diaries. He opened up Volume Six, wondering if there was any reference to his family, and there they were, "Enfield, Ralph and Doris". Unfortunately, the entry was less than flattering. The author had penned, "I'd rather be dead in a field than have tea with the Enfields." Harry, however, finds the turn of phrase "fabulous" and admits to having adopted it himself.
3. Punk was his first love
"I hated everything but punk for a long time," says the comedian. It was a standpoint that actively thwarted his romantic endeavours. "I remember this really pretty girl who really fancied me," says Harry, "but I saw she had a Genesis album in her bedroom and I just thought, 'That's it. No, I'm outta here. I can't possibly kiss someone with a Genesis album.'"
It was a girlfriend at university that finally opened his ears to other genres of music. She was so "lovely", "warm" and "fun" (and, crucially, "mature" at three years his senior) that he hung around, despite her record collection. A collection that included Elgar's violin concerto with Yehudi Menuhin. "Quite soon I found myself putting it on myself, when she wasn't there," Harry admits. "It reminds me of a very happy time at university."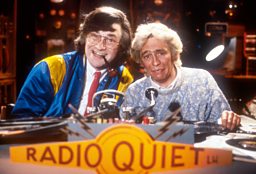 With long-standing comedy partner Paul Whitehouse, as parody radio DJs Smashie and Nicey. Photo © BBC
4. A trip to the library led to his love of opera
"In the early '80s when I came to London, I didn't like opera. I didn't know anything about it," says Harry. But it was soon to become his great musical passion. There was an old record player in his council flat but he didn't have anything of his own to play on it. "I didn't have any money – and I was just starting out – so I used to go and borrow records," he recalls. The library had a lot of opera, so it was opera he took home. He would have the rented record for a week, and would listen to it every day, so by the time he returned it he knew it inside out.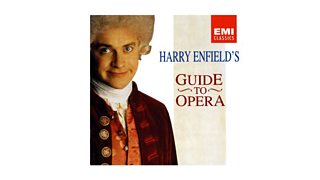 Harry and Paul made a successful series, Harry Enfield's Guide to Opera, for Channel 4, with an associated book and recording.
5. Verdi inspired the theme tunes for his first two television series
One of the records Harry borrowed from the library was Verdi's Rigoletto. "There was one little bit, quite near the beginning… and it stuck in my head," says the comedian. "I thought well, one day, if I ever get a comedy show I want something really traditional, if it's my show… and I'm going to use this little bit." And he did. He asked his friend Kate St John, a classically-trained musician, to do the arrangement for what became the theme to Harry Enfield & Chums. The result, he says, was "very, very ploddy and very self-important" – exactly what he wanted.
For Harry Enfield's Television Series he turned to another Verdi number, this time Il Trovatore. He laughs and says, "I probably went through about a year listening to opera thinking, 'theme tunes?', which probably isn't the best way to listen to it!"
6. He met Paul Whitehouse 41 years ago
Harry and Paul met in 1978. Harry's best friend at school had an older brother at university called Dave, who the pair used to go and stay with. Dave shared a house with Paul Whitehouse. "Paul could not have been more friendly," recalls Harry, "He was absolutely lovely." They soon became friends. Remarkably, Charlie Higson was also there, but his and Harry's relationship didn't get off to such a flying start – Charlie simply ignored the young visitor. Harry, however, was in awe of Higson with his striking white hair and nickname, "Switch". "He didn't say a word to me all weekend which made me think, 'you're really cool,'" says Harry.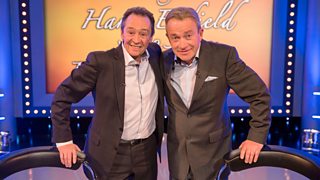 For BBC 2 in 2015, Harry and Paul took to the stage as 'themselves' to celebrate 25 years of working together.
7. In the writer's room, Harry types and Paul makes the coffee
In 1980, when he was working as a milkman in Finsbury Park, Harry stayed in Paul's flat – and that's when their relationship solidified. At the start of Harry's career, when he was asked in interviews to name the funniest person he knew, he would always nominate his mate in the pub, Paul. Eventually his producer said, if he's so funny, let's get him in. "And then my career took off, when him and Charlie started writing for me," says Harry. He and Paul are still writing together to this day. "I sit and write, and Paul makes phone calls. And coffee," jokes Harry. But "then suddenly he'll say something which is just brilliant."
8. He used to live with Lily Allen
Before he met his wife, Lucy, Harry lived for three years with Lily Allen's mother when Lily was a child. He recounts how talented the Brit and Grammy award-winning artist was, even at a young age. "She was always a brilliant singer," Harry remembers. "She could sing things from Oliver and stuff like that when she was young, really well – really, really well."
9. He isn't motivated by fame
Fame has never been the driving force for the writer and comedian. He admits it helped that his wife Lucy was never in showbiz. "She had no interest in my comedy and she's passed that on to our children!" he jokes. He was also lucky to have "a good grounding" and admits, "I got bored of famous me very quickly." Still today, fame is not something he covets: "I don't do fame 'cause I don't do interviews. I don't do it because I don't really like talking about my own life very much, in public."
I don't do interviews because I don't really like talking about my own life very much, in public.
10. It is now much harder to be a young comedian starting out
Harry believes it's "terribly difficult" for young comedians launching their careers today, and much harder than when he was starting out – namely down to the sheer amount of competition. "When I started off there were the Oxbridge lot and there was only about four of them, the Not the Nine O'Clock News lot, and then there were The Comic Strip lot, there were about seven of them, and then there were about five of us. And," he says, "I was the only one doing characters." These days, "there are millions of them, and they're all brilliant. They're so much better than we were. Definitely." He admits, "I wouldn't want to do it now, I'd never get anywhere."
11. He once played a baddie in an episode of Miss Marple
Harry once turned his hand to serious acting when he took on the role of the "baddie" in an episode of Agatha Christie's Miss Marple. He enjoyed it, but it wasn't a resounding success. The night it aired he got a phone call from one of his best friends, Daniel. "I thought he was crying, I thought his mother had died or something," says Harry. "He was actually just weeping with laughter." He admits he'd love to be a straight actor: "You get paid a lot more!"
Guests of Radio 3 talk about their music
Guests from all walks of life discuss their musical loves and hates with Michael Berkeley.

Saxophonist Jess Gillam is joined by a musical guest every week to swap tracks and share the music they love.