Main content
Alma: Live Lounge is scary but you need to nail it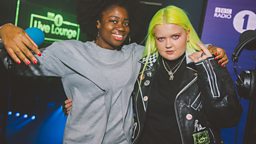 The problem with being an international pop star with a debut album to get finished is that you'll often find yourself on the other side of the world from your band.
So that's why Alma needed help from modern technology to rehearse for her first ever Live Lounge session at Radio 1.
"My band have been rehearsing in Finland so we had Facetime calls," she says after her performance.
"I was in LA but yesterday we came to London and rehearsed all day.
Alma says it's not the "ideal" way to rehearse but due to her schedule, it happens a lot.
Watch Alma (and Raye) perform Phases
Alma has made a name for herself with singles including Chasing Highs and Phases but perhaps more so for her energetic live performances and festival gigs.
This is just scary, it's scary but you need to nail it

Alma
However, despite having already proven herself as a confident and accomplished performer, she still says that making her debut in the Radio 1 Live Lounge was a nerve-wracking experience.
"This is just scary, it's scary but you need to nail it," she says.
"When you have a 45 minute gig you can do whatever, if you screw up a song or a word it's fine but here it's not."
Alma says she messed up a word during her cover of Zayn and Sia's Dusk Till Dawn, but she nailed absolutely everything else so no one's complaining about a slight mispronunciation.
Watch Alma cover Zayn and Sia here
She tells us she chose to cover Dusk Till Dawn because she felt she could relate to the song's lyrics. She adds she's a big fan of Post Malone's Rockstar, but (perhaps wisely) didn't feel the lyrics about sex and drugs would work quite so well on daytime Radio 1.
#squadgoals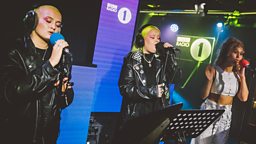 Alma was joined in the Live Lounge by Raye (who Alma praises both as an artist and a friend) but perhaps more importantly, her sister Anna-Livia. Anna is part of Alma's band, but more importantly helps with mental and emotional support when they are on tour.
"My sister is a big help," Alma tells us.
"She is there all the time, we help each other. When I have a bad day or if I don't want to go somewhere she's like 'Now! Let's go!' and vice versa."
We just hope Alma won't need too much encouragement to come back for more.