Main content
Lorde: I think everything I do is terrible, I'm so self-deprecating
Lorde is one of the biggest pop stars in the whole world but she admits she struggles to see the good in her own work at first.
She told Nick Grimshaw on the Radio 1 Breakfast show that she hates playing her music to her friends, especially the ones who are famous themselves.
"It's embarrassing - 'listen to this thing I've made,' she told Nick.
I love it, but it takes me a second to get there

Lorde
"There's never a perfect moment to transition to your own music in a social situation.
"It's more awkward for me because I think everything I do is terrible, I'm so self-deprecating.
"I love it, but it takes me a second to get there."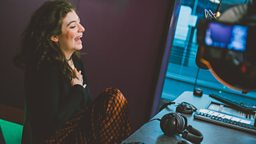 She did admit, however, that she has been keeping in touch with Haim while recording her new record Melodrama, as they were both at the exact same stage in their careers.
"We've been making our second records at the same time," Lorde said.
"We'd have dinner every couple of months and be like "Are you alright, you're in the trenches, are you happy, are you eating well?"
Lorde is currently on the Radio 1 A-list with her single Green Light, which she told Grimmy she wanted to make sure sounded nothing like the "chill" sounds of so many other current artists.
"A lot of the music on the radio is very chill these days, it's very cool to be chill," she said.
"I was quite chill, Royals was quite slow, but I didn't feel like being chill.
"I felt like being a psycho and just bursting back and being like, 'Here it is! All of it! All of what I've been feeling.'
"It's very fast, it's got a bizarre euro-piano behind it, deal with it."
Watch Lorde's Green Light video here
(Warning: Third party video may contain adverts)
Lorde, who confessed to being a huge fan of Mary Berry during her chat with Grimmy ("Maybe her and the Queen are friends? Don't you think they'd kick it?"), said that UK fans can expect to see return to our shores very soon for a handful of live shows and possibly a full tour.
"I'm so excited to start talking about what I'm doing but I know I'm not allowed to," she said cryptically, admitting the dates were booked and saved on her phone.
"There are definitely UK ones. It's about when and where and you'll have to wait to find out. I love performing here."