Main content
Pete Lawrence's Moon guides
Written and compiled by Pete Lawrence
Welcome to these moon guides to help observe features on the surface of the moon. It is in five sections and the first section can be completed using only your eyes. The next two require binoculars and the final two a telescope.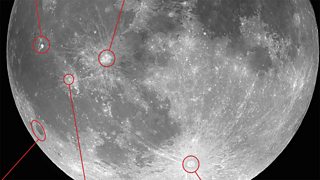 The five sections:
Remember it doesn't matter if you can't see all of the features.
Don't forget if you've managed to take any photographs of any of the features then you can share these via our Photo Group.