Main content
1Xtra WoW debate: Can women be as successful as men in the music industry?
In celebration of International Women's Day last week, 1Xtra went to Women of the World festival at the Southbank Centre to host a debate on gender equality, centring on whether women can be as successful as men in the music industry...
We put together a panel of women working in music to explore this question and more, including: 1Xtra presenter Sian Anderson; Aimee Cliff, Associate Editor at The FADER; and singer-songwriter Becky Hill, chaired by our very own A.Dot.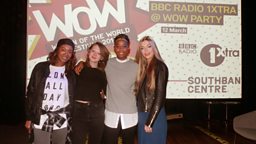 Why did we choose to put on this debate?
Only 1 in 10 artists in the top 50 singles are female. We have 'superstars' like Rihanna, Beyonce and Adele, but only around 30 to 40 per cent of records played on the radio are by female artists.
We wanted to explore the reasons for this by asking questions about the under-representation of women in the music industry.
Here's how the debate went down...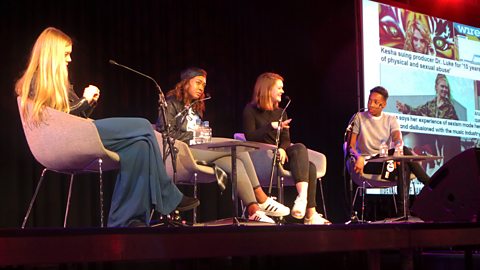 Target and Sian Anderson bring highlights of the debate from Women of the World 2016.
Why aren't women currently as successful as men in the music industry?
Aimee Cliff from The Fader started the debate by talking about some of the ways in which women are currently not making as much money or making important decisions in the music industry.
'It's important to think about who is pulling the strings behind the scenes in the industry' - Aimee Cliff
All the panellists agree that women can be as successful as men in the music industry, but at the moment there are different things holding women back.
Becky Hill shared her perspective that women can be more successful than men in the industry, but that they have to use their sexuality and their sex appeal, which prompted some interesting contrasting responses from members of the panel who disagreed.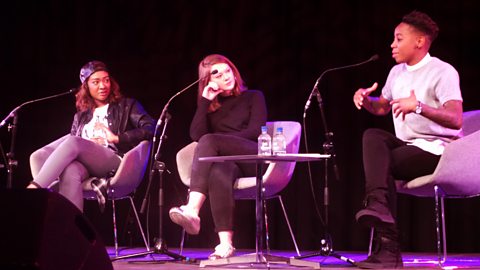 Highlights from the Women of the World 2016 music industry debate.
Women are just as capable as men but they face different barriers to success
The panellists touched on the multiple layers of inequality faced by women in the music industry.
'I feel like there's a mould in the music industry, which is a slightly older white man' - A. Dot
A.Dot mentioned the additional barriers of race and age as a young black woman, and highlighted that people who don't fit the mould of the industry have to work that little bit harder.
Sian followed on to talk about the importance of having the confidence to be vocal about your difference, using your unique perspective and identity as an advantage to add that much needed diversity to music industry.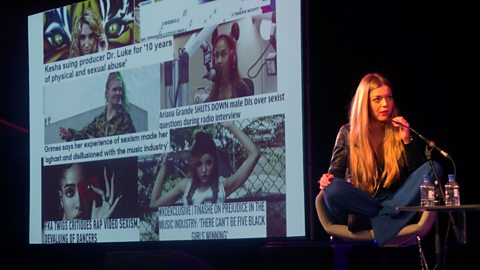 Highlights from Women of the World 2016.
Different views came up on the topic of whether women have to use sexuality to sell records
Becky Hill shared some of her experiences as an artist in the industry, and talked about some of the pressures she feels to look a certain way.
'It's easy to say women are expected to do X, Y and Z with their look or sexualise themselves but the UK's best selling women didn't do that' - Sian Anderson
In response to the question of whether or not women have to use their sexuality to succeed and sell records, Sian gave examples of women who have topped the charts and achieved global success without overtly using their sexuality.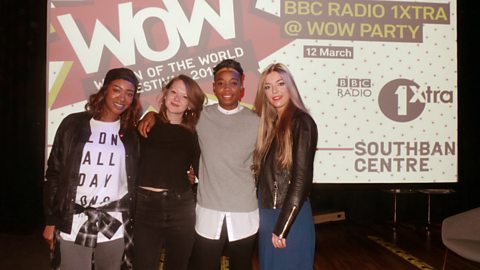 Highlights from the Women of the World music industry debate.
Towards the end of the debate, the discussion looked at the deeper issues in society which result in uneven gender representation
As the debate came to an end, the discussion turned to how girls are socialised differently to boys, and the panel identified how this plays out in the workplace in later life.
'If we start empowering women from an early age...then they'll grow up with a different mentality' - Sian Anderson
A thirteen year old girl in the audience spoke up and gave her perspective on why gender inequality exists in employment, pointing out that there are different expectations for girls and boys in school, and highlighting how this effects career choices, earning-rates and so on.
Sian wrapped up her discussion with DJ Target on an uplifting note, talking about how we can make changes to the current situation for women by educating girls about the opportunities for working in music that exist from a young age.
Now to try and make some changes!
Everyone left feeling stimulated, inspired and empowered to change things. So many interesting perspectives and points came up during the lively debate.
Big thanks to everyone who came down to the debate or participated on air!