Main content
Seven career highlights from Alexei Sayle
The comedy great marks his return to Radio 4 for a third spectacular series of the wonderfully weird Alexei Sayle's Imaginary Sandwich Bar by surveying the peaks of his own brilliant career.

Being forced to reflect on the job I do, it's shocking to me that I appear to have been in show business for nearly 40 years even though I was 28 before my career truly began. I'd done some little comedy stuff before but I measure the beginning of my actual time as a professional comic from me becoming the original MC of The Comedy Store in 1979 when it opened.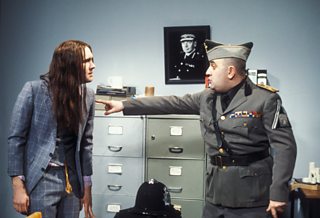 Alexei with Nigel Planer in The Young Ones
Housed in a strip club in Soho with the show not starting till midnight those were some wild nights and I guess that would have to be the first highlight, not just the opening show but the nine months I was in charge there when I met amongst others, Rik Mayall, Ade Edmonson, Nigel Planer and Peter Richardson as well as French and Saunders and we began to completely overhaul what British comedy could be in a new and better way.
Then the same group of people did the same thing for TV with the first series of The Young Ones and the first series of The Comic Strip Presents in 1982. The former was a show which completely re-invented the sitcom and took it in an amazing and radical direction. I think I have never been happier than during those recordings of The Young Ones. There is no more satisfying feeling than working with your friends on something you know is good and you are pretty certain is going to be a hit.
(This article is making me feel like a megalomaniac, usually I do not dwell on the highlights of my career; I am happier thinking about the many disasters and failures but writing this piece has made me into a Donald Trump-style blowhard going on and on about how great my success has been. If I start a war with North Korea it's all your fault).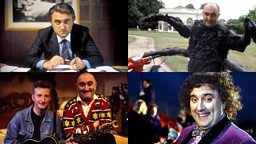 Clockwise from top left, in Alexei Sayle's Stuff series 1 and 2, Alexei Sayle's Merry Go Round and with Billy Bragg in The All New Alexei Sayle Show
Another highlight for me was in 1988 when I made the first of six of my own series for the BBC called Alexei Sayle's Stuff. We had a lot of great actors in my shows but there was also a fantastic roster of writers who I adored working with. Firstly on "Stuff" David Renwick and Andrew Marshall then on The All New Alexei Sayle Show, Graham Linehan and Arthur Matthews finally on Alexei Sayle's Merry Go Round the writers weren't as good but the director was a 22-year-old Edgar Wright working on what was his first mainstream broadcast show. All of these have gone on to great things and none has ever offered me even the smallest job.
Finally, after giving up stand-up comedy in 1996 and casting around for what to do next, I eventually discovered fiction writing and the wonderful world of publishing. After the somewhat abrasive, dog-eat-comedian domain of light entertainment, the book business came as a massive contrast. Everybody in publishing is lovely. I've since written two collections of short stories, several novels and two volumes of memoir and for a long time, (though the short stories and memoirs sold very well) nobody seemed to care whether my books made a profit or not. That's changed recently and I've gone back to stand-up comedy.
This article was updated in September 2019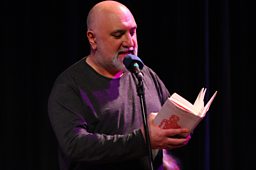 Reading from his novel Mr Roberts in 2008
More funny from Radio 4
Brighten your week with the latest BBC Radio 4 comedy, introduced by Darren Harriott.

The best new comedy from Radio 4, every Friday. Features The News Quiz, The Now Show and Dead Ringers.