Main content
BBC Radio Lancashire Community Heroes Awards
BBC Radio Lancashire Community Heroes Awards
The BBC Radio Lancashire Community Heroes Awards 2019 are now closed. The shortlist will be revealed on BBC Radio Lancashire over the summer."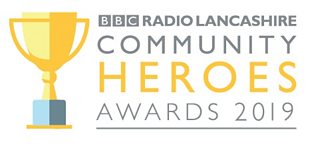 We want to celebrate the wonderful people of Lancashire

John Clayton, Editor, BBC Radio Lancashire
The idea of the awards is to recognise unsung heroes from across the county, with entries being sought in a variety of categories. They are designed to reflect everything from good neighbours to voluntary work.
Nominations will be judged by a panel led by BBC Radio Lancashire's Managing Editor, John Clayton. John says:
"We want to celebrate the wonderful people of Lancashire and the amazing work so many do in the local community. We hope our listeners get behind our Community Heroes Awards and nominate someone who means something to them, for whatever reason.
"We know there will be some real heart-warming stories out there and we'll feature the best nominees on-air in the run up to the ceremony."
Categories
Volunteer of the Year Award - Awarded to a person or group who make a real difference to the community by giving up their time voluntarily to help out a charity or good cause.
Blue Light Award - Awarded to a member of the emergency services for going over-and-above in the line of duty.
Carer Award - Awarded to someone who improves the life of an individual or group of people by caring for them on a regular basis.
Good Neighbour Award - Awarded to an individual or group that helps make the neighbourhood or local community a better place to live or work, either on a regular basis or through a single act of kindness.
The Education Award - Awarded to a member of the education sector for outstanding commitment to their profession.
The Ben Ashworth Award for Fundraising - Awarded to an individual or group who has gone the extra mile to raise funds for a charity or good cause.
Community Project of the Year Award - Awarded to an innovative project that has helped to genuinely changed the lives of others within the community.
The Companionship Award - Awarded to an individual or group that has gone out of their way to help combat loneliness or social isolation within the older community.
The Pride of Lancashire Award - Awarded to an individual or group whose efforts locally, nationally or internationally have embodied the Lancastrian spirit and whose achievements have consistently made you proud to be from Lancashire.
How to nominate
To make a nomination, click here and fill in the form telling us who you would like to suggest and why.
Alternatively, you can enter by post by downloading the form here.
Please post the completed form to: Community Heroes Awards, BBC Radio Lancashire, Darwen Street, Blackburn, BB2 2EA.
Nominations can be made from Friday 1 February 2019 until the closing date at midnight on Tuesday, 23 April 2019.
All those who make the shortlist will be invited to a special awards ceremony in September 2019.
Click here for full Terms and Conditions