Main content
Slade House by David Mitchell
About the Book
Turn down Slade Alley - narrow, dank and easy to miss, even when you're looking for it. Find the small black iron door set into the right-hand wall. No handle, no keyhole, but at your touch it swings open. Enter the sunlit garden of an old house that doesn't quite make sense; too grand for the shabby neighbourhood, too large for the space it occupies.
A stranger greets you by name and invites you inside. At first, you won't want to leave. Later, you'll find that you can't.
This unnerving, taut and intricately woven tale begins in 1979 and reaches its turbulent conclusion around Hallowe'en, 2015. Because every nine years, on the last Saturday of October, a guest is summond to Slade House. But why has that person been chosen, by whom and for what purpose? The answers lie waiting in the long attic at the top of the stairs...
About the Author
David Mitchell is the author of many successful novels, including Ghostwritten, number9dream, Cloud Atlas, Black Swan Green and The Bone Clocks (a former Radio 2 Book Club choice)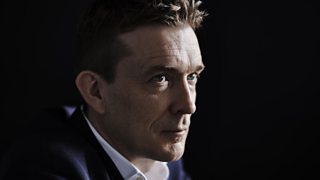 He has won the John Llewellyn Rhys, Geoffrey Faber Memorial and South Bank Show Literature Prizes, and has shortlisted twice for the Man Booker Prize.
In 2003, he was selected as one of Granta's Best of Young British Novelists.