Main content
Saving the Hollanders
If it wasn't for a letter sent by a BBC sound technician and composer called K.A. Wright in 1938 to Tom Hollander's grandfather in Czechoslovakia, the Us and Rev actor might never have reached our screens.
In BBC Radio 3's The Letter, his sister – director, writer and singer Julia Hollander – assisted by Tom and their father, Tony Hollander, explores this surprising quirk of fate and tells the emotive and uplifting story of how their family escaped from the imminent Nazi occupation of Czechoslovakia.
Surrounded by the Nazis
Julia and Tom's grandfather, and Tony's father, was Hans Hollander, a music critic and lecturer. Hans lived with his wife Leni and the young Tony (only three years old then) in Brno, which in 1938 was completely surrounded by Nazi troops who had annexed the German-speaking area of Czechoslovakia, the Sudetenland.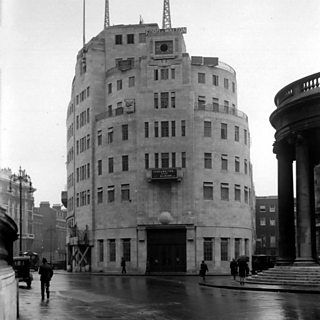 Broadcasting House in the 1930s
Hans's father and uncle had already been arrested by the Nazis (and both later, sadly, perished) because of their Jewish faith, and Hans feared worse was to come.
As he wrote to his mother in nearby Břeclav (or Lundenberg as it was known by the German population there, and as Tony still calls it): "I can't imagine that the social order will ever be restored. The signs are bad, they can only get worse. I'm afraid that it is too late for us to go to England."
Enter Kenneth Anthony Wright
K.A. Wright was an innovative and ambitious employee at the BBC. Julia Hollander's investigative work at the BBC Archive reveals that Wright contacted Lord Reith, the first Director-General, to ask that the music department embrace culture in the widest possible sense.
This appears to have been a prelude to Wright taking leave to journey to musical festivals across Europe. His journey included the Prague Festival in 1938, where there was a commemorative performance for the composer Leoš Janáček, who had died a decade earlier. It seems very likely that Wright met Hans Hollander at this event.
Although Hans could not have seen what was to come from this meeting, a shared love of music with the man from the BBC would have been a significant moment for him. It could even have been why he'd had a journey to England in mind.
A miracle missive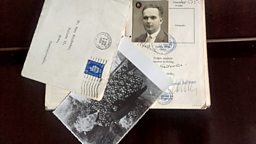 On 9th March 1939, Hans received a life-changing letter from K.A. Wright:
The British Broadcasting Corporation
Broadcasting House
London W1
6th March, 1939
Dear Hans,
We're talking over next season's programme plans very soon, and it would be very helpful if you could possibly arrange to come for a few days to London to give us an opportunity of discussing Janáček and the whole question of Czech music generally.
How soon do you think you could come, and how long would you be able to stay?
I should like to arrange with you to be in touch with my colleagues at the earliest convenient date.
With best wishes to you all...
The letter underlines the familiarity between the two men, but more than that, of course, it was a passport to another life.
A fraught journey to freedom
Less than a week after receiving the letter, Hans was on the way to England. The date was 15th March, 1939 – the same day Hitler began his all-out invasion of Czechoslovakia. A timely departure, to say the least.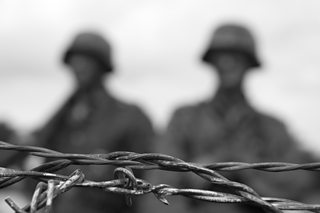 But leaving was one thing, arriving was another... Hans travelled to Prague first, with Leni and Tony arriving later. All three then travelled on to Dresden, making a connection to Leipzig despite an agonising delay, and then on to Bad Bentheim, near the border with the Netherlands.
The fear that passengers had about being picked up by the Gestapo had been ever-present. It heightened at the border, where that fear became a grim reality. Among the people taken off the train there was a Lutheran pastor from Lundenberg, who Hans knew. "My father knew that if he showed any recognition that could be dangerous," explains Tony, "so he left him there and went back to the train."
The family made it to the Hook of Holland, but there was one more hurdle to come. After finally arriving in England, at Harwich, Hans was interrogated for 10 hours. It was only K.A. Wright's letter that saw him through. All told, the journey took three days. Where it took them to – freedom – would last them a lifetime.
A new life
Hitler's invasion of Czechoslovakia essentially ended the British policy of appeasement and was a crucial step on the road to war. So, when Hans, Leni and Tony arrived they found that people wanted to know more about their country, which was now at the centre of world politics.
Hans's first impressions of England were glowing. "If we were allowed to live here," he wrote to his mother, "I know we could achieve something; the landscape and lifestyle are wonderful, especially in London. The old, established culture which has not been disturbed by a lost war or any hardship, is wonderful."
The family were shown great kindness, not only, of course by their "sponsor", K.A. Wright whose parents described Hans as a "second son", but various people who helped with accommodation and with gifts and donations, including a piano. A big break came when Hans was commissioned to write a series of radio programmes. "I'm thankful that we may be secure for the winter and perhaps even be independent," he wrote afterwards.
"It was only through sheer grit, a certain amount of talent, and, of course, kindness and contacts in this country, that we found ourselves again," says Tony. Asked by Julia what Hans said of the letter that started it all, Tony says: "The letter was clearly a document of salvation for the family."

Between the Ears on Radio 3