Main content
Queso-less Quesadilla with an apple chutney
Quesadillas without the cheese! Once you've prepared the spread and chutney, these queso-free quesadillas are an absolute cinch to make. It's a ploughman's twist on a tortilla dish that has become something of a staple in Aine Carlin's kitchen.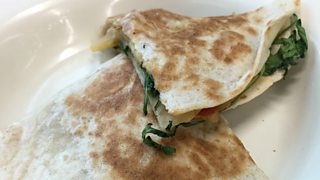 Top Tips:
For the smoothest cashew cheese be sure to soak your nuts overnight in filtered water.
Blend, blend and blend! The 'cheese' will go through several stages ... coarse, gritty and eventually smooth. Persevere until you achieve the desired consistency.
This is a great base for a variety of flavouring additions ... dried or fresh herbs, chilli, roasted red pepper. Don't be afraid to experiment!
Make the chutney in advance and store in the fridge to ensure making the quesadillas is a last minute cinch.
Granny Smiths are a great choice for the chutney, as they are slightly tart and hold together well when cooked.
Forgo the tortilla altogether and use the cashew cheese and chutney as an easy after dinner 'cheese board' option - serve with crackers and fresh/dried fruit.
Ingredients:
Serves 4
• 4 large flour tortillas
• 1 batch of Easy Cashew Cheese Spread
• Handful of rocket
• Olive oil, for brushing
For the apple and ginger chutney:
• 1 Tablespoon olive oil
• 1 Small onion, finely diced
• 2 Small eating apples, peeled, cored and sliced
• 1 Tablespoon lemon juice
• 2 Tablespoons red wine vinegar
• 3 Tablespoons agave nectar
• 1 Teaspoon sambal oelek or other chilli paste
• Handful of raisins or sultanas
• Thumb-size piece of fresh ginger, peeled and grated
• Salt
Instructions:
1. First, make the chutney. Heat the olive oil in a small saucepan and add the onion. Season with a little salt and sauté until translucent.
2. Toss the apple slices in a little lemon juice to prevent them discolouring. Add them to the pan along with the red wine vinegar, agave, sambal oelek, raisins or sultanas and grated ginger. Stir to combine, add a splash of water and simmer for around 20 minutes until most of the liquid has evaporated and the mixture is completely soft. Leave it to cool before transferring to a clean, sterilised jar. Refrigerate until needed.
3. Heat a griddle or frying pan and divide the Easy Cashew Cheese Spread between the four tortillas, spreading it in a half moon shape. Top with a tablespoon or so of the chutney and a smattering of rocket. Fold in half and brush each side with a little oil. Griddle over a medium heat until marked and golden on both sides. Cut each tortilla into three triangles and serve.
For the easy cashew cheese spread:
Ingredients:
• 100g Soaked cashews
• Juice of a ½ lemon
• 1 Garlic Glove
• 1 Teaspoon cider vinegar
• ¼ Teaspoon Dijon mustard
• Sea salt and freshly grounded black pepper
• 1 Tablespoon chopped fresh chives (Optional)
Put the soaked cashews in a food processor with the lemon juice, grated garlic, cider vinegar, Dijon and some seasoning. Blend until it begins to form a thick, coarse, paste. It may take up to 10 minutes to achieve the desired consistency - add a tablespoon or so of water if necessary. It will go through several stages so be patient, scraping down the sides and underneath the blade with a spatula as and when necessary. Stir through the chives, check for seasoning and refrigerate until needed.
Credit: Taken from The New Vegan by Aine Carlin, published 2015
More Food on the BBC
Browse our selection of recipes from top chefs, cooks and food writers who have joined us on Woman's Hour...

Download this interview, or subscribe to the Cook the Perfect...downloads