Main content
Who are BTS and why are they so important?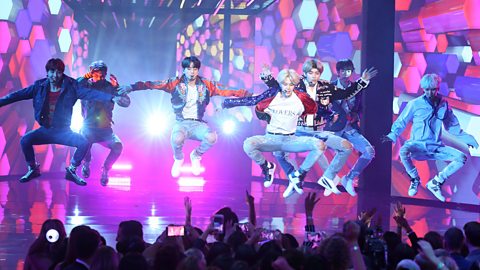 BTS' Mic Drop has been remixed by Steve Aoki. Listen to Adele's introduction on Radio 1.
Adele Roberts has been championing South Korean pop sensations BTS on Radio 1 and recently unleashed the Steve Aoki remix of the band's track Mic Drop as part of Best New Pop - to a rapturous reception from fans.
Now it turns out that Adele has been working on a very special documentary all about K-pop, featuring (of course) the BTS boys. We seriously can't WAIT to see it!
But for those of you who don't already know all about the seven (yes, SEVEN) piece boyband, we thought we'd give you a helpful little refresher lesson. So sit back and enjoy...
They're kind of a HUGE deal
Hear the first Radio 1 play of K-Pop group, BTS' track 'DNA' in this week's Best New Pop!
With four million albums sold worldwide since 2013, the seven (count 'em) members of BTS could give fellow boy band sensations One Direction a run for their money.
A mixture of singers and rappers - and all incredible dancers - BTS fuse K-pop, R'n'B and hip hop. Their latest album, Love Yourself: Her, hit No.1 on iTunes in over 73 countries. In short, they are a MASSIVE deal. And while they're yet to make an English language release, their loyal fanbase is getting bigger and bigger over here.
They pretty much rule the internet
BTS are the ultimate band in the age of the internet. With 14 million followers across Facebook, Twitter and Instagram, they have a huge social media presence.
In 2016 BTS were listed as the most re-tweeted artist on Twitter, and the social network featured the band in their first ever K-pop emoji. This year they won a Billboard Music Award for Top Social Artist, beating the likes of Justin Bieber and Selena Gomez for the honour.
They have an ARMY of loyal fans
BTS have some of the most devoted, loyal fans of any pop group the world has ever seen. Called the BTS "ARMY," they watched their DNA 50 million times in one month in Autumn 2017.
Moreover, their fans cast an astonishing 300 million online votes to ensure BTS won that Top Social Artist Billboard award. And of COURSE, they got DNA trending and played out TWICE on Adele's Best New Pop playlist.
As their global profile continues to rise, we reckon we might be hearing a lot more from these kaleidoscopically-haired boys. We're not sure we really mind having literally ZERO idea what any of their lyrics mean - songs like DNA are awesome anyway.