Main content
Keeping up with The Logans — band of sisters new reality show
Meet The Logans - three social-savvy sisters from Glasgow who invite you to follow their hopeful journey from songsters to superstars.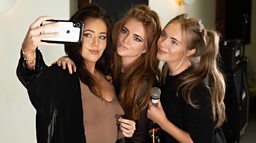 Honor, Tayler and Leona Blue star in 'The Logans: Band of Sisters'
Sisters Honor, Tayler and Leona-Blue, aka pop-country trio The Logans, are siblings from a large musical family brought up in Barrhead, near Glasgow.

Now the stars of their own BBC Scotland weekly digital reality show - only available on BBC Scotland IGTV and YouTube - The Logans: Band of Sisters reveals to their young audience what life is like on the road recording and performing as three "young women in a challenging world."

Despite having put out relatively little recorded music - they have just released their debut EP - the social media savvy girls have already amassed close to 50k followers on Instagram.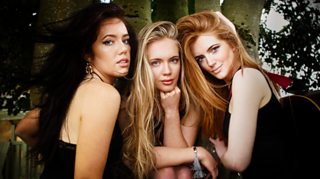 Sister act
Bringing up kids in a musical household seems to have paid off for their parents who had nine children in total with all of them taking up at least one musical instrument.
Growing up listening to Johnny Cash, Shania Twain and Dolly Parton, when the girls finished university at roughly the same time, they decided they would pursue their love of country music. Two of them have chosen to shun potential careers in law and dental therapy to do so.
As they recently told Kaye Adams, "We're from a big musical family and [country music] has always just been part of our lives."
"A lot of music has honesty missing from it just now and there's something beautiful about writing together as sisters."
The girls who are in their twenties, explain that country was attractive to them as a genre because of the emphasis on songwriting.
"A lot of the time women aren't really taken seriously for the songwriting", says Honor.
With these three upbeat, success-driven sisters who write, travel, joke and sing together, who needs the Kardashians when you can keep up with The Logans?
The Logans invite you behind the scenes of their recent gigs. From booking gigs to pulling in an audience, the sisters have it covered...or do they?
The sisters chat to Kaye about their lives and play live in the studio. Track is "Crathes Castle" about the ghost of a murdered lover.
Latest features from BBC Scotland