Main content
Six inspiring artists you need to know about
The Radio 4 series, An Alternative History of Art, explores overlooked visual artists from the 20th century. Art history has long been written from a white, western male perspective, so what would an alternative canon look like? Here we look at six fascinating artists featured in the series...
Eileen Agar (1899 to 1991)
British painter and photographer Eileen Agar was one of the few women to be included in London's 1936 International Surrealist Exhibition, next to Picasso and Max Ernst.
She became an overnight sensation and honorary member of the British Surrealist group.
Excited by the surrealists' desire to paint "what goes on inside our heads", but sceptical about some of their methods and more extreme beliefs, Agar was a "reluctant surrealist":
'One day I was an artist exploring personal combinations of form and content, and the next I was calmly informed I was a surrealist!'
Born in Buenos Aires in 1899, Agar had moved to London in 1911 accompanied by a cow and an orchestra, because her rich and fashionable mother believed that fresh milk and good music were essential to her well-being.
Listen to Episode 1 of An Alternative History of Art: Eileen Agar here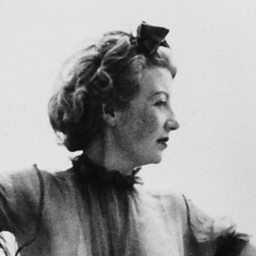 Eileen Agar dancing on a roof at Mougins 1937. (Image © The Estate of Eileen Agar, courtesy of Redfern Gallery, London)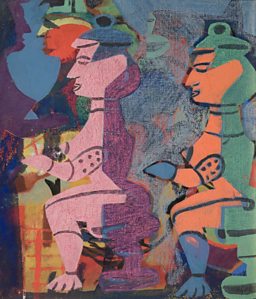 'Tribal Figures' 1938 - by Eileen Agar. Oil on canvas, 55 x 45 cm (All Images © The Estate of Eileen Agar, courtesy of Redfern Gallery, London)

Ibrahim el Salahi (1930 - )
Modernist painter Ibrahim el Salahi incorporates elements of Arab calligraphy and North African symbolism with western approaches in his art.
Born in 1930 in Sudan, El Salahi taught in Khartoum, and was one of a group of artists who later became known as the "Khartoum School".
In 2013 he became the first African artist to have a solo retrospective exhibition at the Tate Modern.
El Salahi also had a career in politics. In the mid-1970s, he was Undersecretary in the Ministry of Culture and Information.
He was later wrongly imprisoned for six months following false accusations of anti-governmental activities. After his release from prison he eventually moved to Oxford where his work was completely ignored for 30 years.
It is only now he is finding international fame.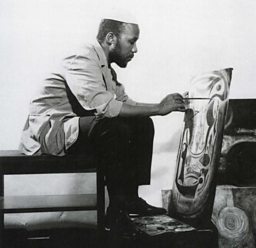 Ibrahim El Salahi in his Studio, 1964-65, Artist's Estate (Image courtesy of Vigo gallery and the artist)
'Prison Diaries' - by Ibrahim El Salahi (Courtesy of The Museum of Modern Art, New York. Acquired through the generosity of Marlene Hess and James D. Zirin, Catie and Donald Marron, Alice and Tom Tisch (in honor of Christophe Cherix), Marnie Pillsbury and Committee on Drawings and Prints Fund. Image courtesy of Vigo gallery and the artist).

Jim Nutt (1938 - )
Jim Nutt's art has drawn acclaim for the contrast between his technical skill, elegance and meticulous craftsmanship, and its brash, grotesque, bizarre imagery and scatalogical content. Born in Massachusetts in 1938, Jim is one of the "Chicago Imagist" painters and a central figure in the "Hairy Who?" movement.
The name for their first exhibition came about when the group was discussing a local art critic called Harry Bouras. The artist Karl Wirsum hadn't heard of him and kept saying Harry Who? - the group found it very funny and realised the potential for the name, changing Harry to Hairy and resulting in the exhibition name of 'Hairy Who?'. While not consciously forming and naming a group, the name stuck.
Exhibiting at the Hyde Park Art Centre in 1966, 1967 and 1968, the friends and classmates came to represent the Chicago Art Scene by 1968, even though they all made their work separately, only coming together for exhibitions.
Nutt paints a surreal world of images drawn from ethnography, outsider art, art history and Chicago popular culture, though latterly his subject matter shifted to exclusively portraits of women from the shoulders up.
The strangeness of his art, along with his slow pace (he's produced one painting a year for the last 27 years) and loyalty to Chicago has perhaps prevented him from achieving international recognition.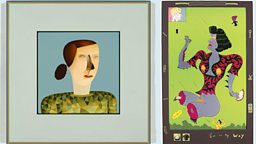 'Tweak', 2014 - by Jim Nutt (Image © Jim Nutt, courtesy David Nolan Gallery, New York) and 'Toot Toot Woo Woo' by Jim Nutt (Image © Jim Nutt, from the Elmhurst College Art Collection)

Ben Patterson (1934 - 2016)
A classically trained musician who was fascinated with new forms of music, Patterson became a key figure in the experimental art scene in Europe. He joined artists in a series of radical musical and artistic experiments which gave birth to the Fluxus movement, an avant garde collective, of which George Maciunas, Joseph Beuys, Dick Higgins, Nam June Paik and Yoko Ono were also members.
Fluxus artists often staged random performances and used whatever materials were at hand to make art. Chance, accident and humour played a big part in the creation of works. Fluxus sought to eliminate the boundary between art and life.
Patterson was the only African American Fluxus member. After just a few years, Patterson stopped publicly producing art, taking an almost 20 year hiatus "to pursue ordinary life" in New York. Though this was reportedly due to becoming a father, his private letters are said to make connection between his departure and Fluxus' lack of support or engagement with civil rights movement.
One of the most experimental artists of his time, Patterson – born in 1934 in Pittsburgh - was instrumental in redefining the boundaries of music, performance and art, but was largely written out of Fluxus history.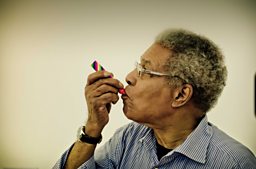 Ben Patterson at Nassauischer Kunstverein Wiesbaden, 2014 (Foto: Christian Lauer)

Karl-Heinz Adler (1927 - )
In the German Democratic Republic during the 40s/early 50s, abstract art was illegal, condemned as degenerate and anti-socialist.
Adler, an artist based in Dresden, and his working partner Fredrich Kracht, came up with an ingenious way of subverting the system, inspired by the Bauhaus.
Instead of creating abstract paintings, they channelled their ambitions into architecture.
Producing fences, partitions and other ornamental constructions, Adler and Kracht were employed by the East German authorities - being paid for their abstract creations as craftsmen whilst helping to rebuild Germany and "building socialism".
When the Berlin Wall came down in 1989, Adler could finally exhibit his abstract art more freely. Yet soon he found the Western world had moved on. It has been only in the last decade, in his 80s and 90s, that Karl-Heinz Adler has begun to receive the recognition he deserves.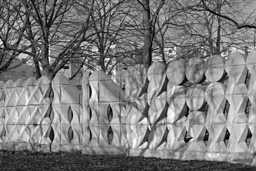 Museum für Sächsische Volkskunst, Dresden (Photo: Uwe Walter, Berlin)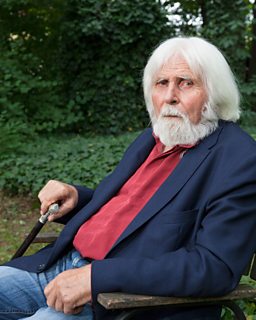 Karl-Heinz Adler (courtesy Galerie EIGEN + ART Leipzig/Berlin; Photo: Otto Felber, Berlin)

Helen Chadwick (1953 - 1996)
Helen Chadwick was an admired figure in the London art scene in the 1980s and 90s. But she died aged 42 in 1996, just at the height of her fame, with shows arranged in 10 countries.
Chadwick's work included the use of unusual methods to create her art: one project, called "Piss Flowers", involved her first weeing in the snow. Then casting the shape into a sculpture.
Her intention was for her work to simultaneously provoke disgust and desire, juxtaposing the repulsive with the erotic.
Chadwick became the first female artist to be nominated for the Turner Prize, in 1987.
A combination of her early death in 1996 and the later fame of Young British Artists such as Damien Hirst and Tracey Emin mean that whilst her style is famous and lives on, it is not always attributed to her.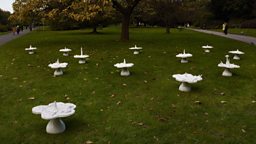 'Piss Flowers' 1991-2 by Helen Chadwick (Installation view, Frieze London 2013; © Estate of the Artist.; Courtesy of Richard Saltoun Gallery)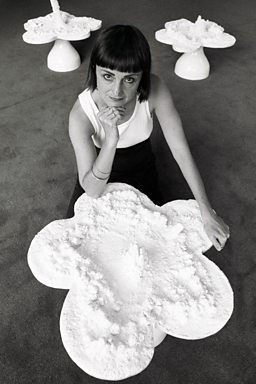 Portrait of Helen Chadwick (By Kippa Matthews, Courtesy of Richard Saltoun Gallery)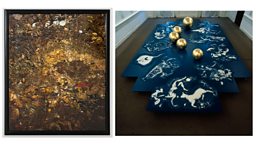 'Carcass' 1986 (© Estate of the Artist; Courtesy of Richard Saltoun Gallery ) and 'Oval Court' 1984-1986 - Mixed Media Installation 'Of Mutibility' (© Estate of the Artist; Courtesy of Richard Saltoun Gallery; Photo credits Edward Woodman) Both by Helen Chadwick

Elsewhere on Radio 4
Andrew Marr on The Power of Art, with Andrew Graham-Dixon, Leanda de Lisle, Kelly Chorpening and Don Thompson.

Front Row's quest to find listeners' favourite female-created works of art to mark the UK women's suffrage centenary.