Main content
There's No Place Like Home: How to listen to The Archers Revisited this week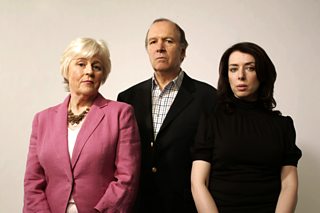 Brian Aldridge caused shockwaves when he confessed to his wife Jennifer that he'd been having an affair with a much younger woman.
There's no place like home, as the good people of Ambridge well know. This week, we'll listen in to moments that tested each of the family farms. The Grundys will bid farewell to Grange Farm, Helen will hear a life-changing verdict, and Brian will make an earth-shattering confession. At Brookfield, the Archers makes a difficult decision for the good of their farm and we'll hear the flood that affected all of Ambridge.
These episodes from the past 20 years will be broadcast on Radio 4 at the usual time of 7pm on Sundays to Thursdays (with repeats the following day at 2pm), and an omnibus each Sunday at 10am. After broadcast, each episode will be available here on the website and on the BBC Sounds App.
Sunday: Brookfield in Lockdown
Brookfield is under lockdown due to an outbreak of Foot and Mouth. In 2001 there was a national outbreak of Foot and Mouth disease. Brookfield farm had been badly hit by the disease in 1956 and David Archer is keen that the farm doesn't suffer the same kind of tragic losses that it did when his grandfather, Dan, was in charge. David and Ruth make the difficult decision to seal off Brookfield for six weeks. This programme was originally broadcast on 21st March 2001. Listen to the episode here.
Monday: Brian Confesses to Jennifer
Tuesday: The Grundys' eviction from Grange Farm
The Grundys were tenant farmers at Grange farm but their landlords, Borchester Land, wanted them out. When they were no longer able to pay their rent, BL took the opportunity to evict them. All the Grundys, except Will, had to move to a small council flat which hit the family very hard. In Tuesday's episode, first broadcast on 26th April 2000, the day of the Grundys' eviction from Grange Farm has arrived. Listen here to find out what happens.
Wednesday: Floods Hit Ambridge
As residents of the village gather in St. Stephen's on a March evening to listen to a talk, news arrives that the River Am has burst its banks and several houses are under water. Soon much of the village is under threat and rescue parties are organised to bring people trapped in their homes to safety, but as the waters rise Lynda is refusing to leave Ambridge Hall until she can find her dog Scruff. This episode was originally broadcast on 3rd March 2015 and you can listen here.
Thursday: Helen Wins Custody of Her Boys
More from The Archers...
Archers actors are recording the programme from their own homes while guidance on safe social distancing prevents any work in the Archers studio in Birmingham.

With Brian and Jennifer Aldridge having no choice but to sell their home, what does the future hold for Home Farm?

A look back at the story so far of Will Grundy, Clarrie and Eddie's elder son.