Main content
Lewis Capaldi made up two brilliant songs on-the-spot for Radio 1 listeners
After spending seven weeks at the top of the UK's Official Singles Chart with Someone You Loved, before scoring a Number 1 Album with his debut back in May, Lewis Capaldi is flying high.
Capaldi could put his name to any song and it could conquer the charts. In the words of one YouTube commenter, "He could sing Terms and Conditions to me and I'd cry and love it."
To put this theory to the test, Greg James asked his listeners to tell him stories about their Bleak Mornings – painful experiences that they needed to vent about – and for Capaldi to then turn these stories into beautiful, emotional songs.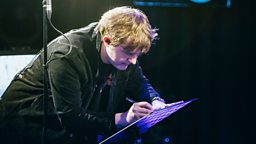 We had Lauren, who returned from a luxury holiday only to find her dog being sick all over the living room carpet. There was Christy, whose boyfriend woke her at 5.30am thinking she was late for work. In fact, he did it two days in a row. Those are some Bleak Mornings.
But trust Capaldi to turn these rubbish experiences into flooring ballads. He's at the top of his game.
Watch the brilliant footage above.
Radio 1 Breakfast Best Bits with Greg James
Daily chat, nonsense and extra fun after every Radio 1 Breakfast With Greg James.