Main content
Memory Tapes - November 2017
Bill's Festive 50
29th November
Bill Kerr in St. Leonards-on-Sea takes inspiration from the late great John Peel, with a bespoke birthday compilation that expanded into a blog.
"About nine years ago I had a get-together for my 50th birthday and I wanted to give everybody that came some sort of memento. I decided on a compilation CD to celebrate the day and share some of the music I was listening to at the time.
It wasn't my Desert Island Discs, or anything profound. It wasn't supposed to say anything apart from "here is some music I'm enjoying at the moment: I hope you enjoy it too". And it went down well, everyone seemed to like it.
Although there weren't 50 tracks, and it certainly wasn't festive, I called it the 'Bill's Festive 50' referencing my birthday and, of course, paying homage to John Peel who must take some of the credit for the diverse range of music that I listen to.
I later decided to do a weekly blog about a track representing each year of my life. This is to celebrate my next big birthday, coming up in just over a year – my 60th no less.
The blog is called '60 at Sixty' and I'm in the process of getting the first few posts up. I'm a bit behind at the moment, but this will give me the impetus to get a few more up."
Tracks
Flaming lips - Flight test
Steve Earle - Steve's Hammer
Alabama 3 - How Can I Protect You
Tinariwen - Oualahila Ar Tesninam
1 Giant Leap - My Culture
Bajofondo - Pa' bailar
Thievery Corporation - Lebanese Blonde
Robbie Robertson - Take Your Partner By The Hand
Primal Scream - Loaded
Easy Star All Stars - Karma Police
Cheikh Lô - Né La Thiass
Geoffrey Oryema - Mara
De-Phazz - Jazz Music
Iptal - Transcendental
Yves Laock - Nomadic Knights
Ben Harper - Both Sides of the Gun
Babba Maal - Africans Unite (Yolela)
Clash - English Civil War
Jack Johnson - Mud Football (Live)
Tunes For A New Niece
22nd November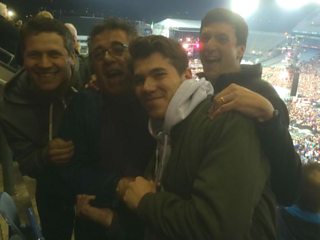 Listener Ashley Lawrence e-mailed last week. His brother Ricky had just become a father and he was going to meet his niece, Macie, for the very first time that evening.

Ashley wrote: "I've started to think about how I can make sure I become her coolest uncle. I jotted down the following tracks, as I think they'd act as the perfect introduction to some of the amazing music that Ricky and I have enjoyed over the years. I'd love to think that in a few years' time, I'll be able to introduce Macie to some of these artists and give her a head start in her musical education. Ricky and I have seen all of these artists live over the years and they all hold a special place in our heart."

The Cribs - Be Safe
Probably the band Ricky and I have seen together the most. Both of us, along with our younger brother Darren, love The Cribs, especially as they are a band made up of three brothers! Behind their rock and roll image, they actually have a brilliant ability to write catchy melodies, Be Safe is quite different to the rest of their stuff but the song is sort of all about sharing wisdom, albeit most of it is a tad cryptic, so it could be fitting for this purpose.

Kanye West - Through The Wire
Kanye has been a huge part of our musical bond for a long time. Obviously, his fame often precedes his music but there's no doubting his talent and his consistency. This track is a great example of perseverance in the face of adversity, coupled with a top-notch sample and could well strike a chord with someone hearing it for the first time.

Oasis - Going Nowhere
Like so many 90s kids, Oasis were the first band Ricky and I truly loved and the first gig we saw together was the Be Here Now tour at Wembley Arena. Going Nowhere showcases the more tender side of the band and I love the sentiment of the chorus, Noel simultaneously dreaming of what his life will bring while acknowledging that for the moment he's 'going nowhere'. Aim high, but keep your feet on the ground, Macie!

Bruce Springsteen - She's The One
The first name on the 'teamsheet', Bruce Springsteen is the one artist that unites me, Ricky, Darren and our dad Jeremy like no other. My children Isaac and Annie have already got the bug and I fear Macie will have no choice but to fall in line, so she might as well get on board as quickly as possible! She's The One is one of my all-time favourite Bruce songs and it's ideal for this purpose, the breakdown at the end of the song is a joyous celebration that you can't help but join in with.

Super Furry Animals – Demons
My favourite band, and one that I've dragged Ricky along to see many times. SFA have so many strings to their bow but I've gone for one of their classics, Demons. I adore the lyrics to this song, from the first line onwards. I like the idea of letting Macie know that it's ok not to have all the answers and the relief that comes when you realise we're all just muddling along trying to do our best. The last line, 'I know that you know that we know they don't know what's going on' sums it up.

Yeah Yeah Yeahs - Tick
Nearly went for the more heartfelt Maps or Turn Into, but decided the tape could do with some more dancing and this is song is just so much fun to sing along to!

Arcade Fire - No Cars Go
One of Ricky's favourite bands, I have fond memories of watching them at Reading with Ricky and my wife, Sarah. Everyone knows how well Arcade Fire do anthemic indie and No Cars Go is maybe the best example. Again, the lyrics resonate, the idea of having a special place where you can truly be yourselves.

The Flaming Lips - Do You Realise?
Maybe the most obvious track on the list but I've never been afraid of making the obvious choice if it's the right one! Ricky and I have seen the Flaming Lips a couple of times and although this isn't necessarily my all-time favourite Flaming Lips track, it seems almost purpose-built for this memory tape. There's nothing like the birth of a child to put things in perspective and this song sums up that feeling rather nicely.

The Postal Service - Such Great Heights
Another chance to revel in brilliantly wistful sentiments, finally seeing Postal Service live a few years ago was a special moment for me and Ricky and this song blew my mind when I first heard it, I think it could do the same for Macie.

Radiohead - There, There
Maybe their best ever song. By Radiohead's standards, the lyrics to this are quite open and straightforward, particularly as the song builds to its crescendo and I think it would make an impression on anyone hearing it for the first time. I like the idea of being able to draw on such an extensive back catalogue and finding just the right song to make a connection with someone, for me, this is the Radiohead song I'd play to anyone who'd never heard the band before.

Blur – Tender
Yes, it's another obvious choice, what with the refrain 'oh my baby', but a great song is a great song. I often find myself singing this song to my own children, so I expect Ricky will be singing it to Macie before too long!

Jamie T – Sticks 'n' Stones
A bit of fighting spirit is never a bad thing and this Jamie T track is a masterclass in brushing off life's knocks and carrying on regardless, with a great singalong chorus that I could imagine a child immediately latching on to. Ok, we may have to censor some of the language, but you can't keep them wrapped in cotton wool forever!

The Maccabees – Pelican
Ricky and I saw the Maccabees together regularly and we were at one of the Ally Pally farewell gigs earlier this year. This was the last song they played on the night and the lyrics make it perfect for this purpose, a song that talks about the circle of life honestly while still maintaining a sense of romance and aligned to a classic Maccabees melody.

Fleetwood Mac – Everywhere
So many Fleetwood Mac songs to choose from, they're such an easy band to introduce children to with their amazing catchy singalong choruses that conceal hidden depths. I chose this one because I know that somewhere there is video of a three year old me dancing to this song so perhaps Macie can continue a family tradition!

Spiritualized - Ladies And Gentlemen We Are Floating In Space
A song that could actually be mistaken for a lullaby, so serene on the face of it. Although this is the opening track of the album of the same name, I think this would be the ideal way to finish the memory tape. Especially with use of the Elvis track at the end, which is all the more prominent when the band play this song live. Another song that changed my understanding of what music could be when I first heard it and one that I think could strike a chord with anyone.
Love Saves The Day
15th November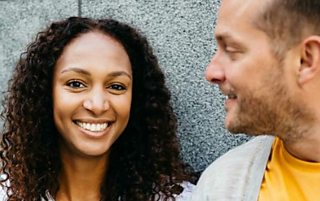 Lecia Feare from Leeds got in touch ahead of her wedding to Dan Thompson.
"In less than a month, I'll be marrying Dan, the kindest, funniest and most generous man in the world! We're having a 'Love Saves the Day' David Mancuso-inspired New York-style loft party reception at a brewery in Leeds with some excellent DJs (Lucy Locket from Speedqueen and Love Muscle and Mike Greenwell from Cosmic Slop)."
Luther Vandross - Never Too Much
It's "our song" - cheesy but true.
Doc Severinson - I Wanna Be With You
The first record I bought for Dan - pressure was on to make it a good one and think I picked a winner! (think I heard it first on 6music)
Fleetwood Mac - Dreams
We love to travel and our first proper long haul trip was to Sri Lanka. We travelled around for three weeks. We listened to a lot of Fleetwood Mac on that trip, mostly while sitting on a balcony on the side of a mountain in Ella... this is Dan's favourite.
Joubert Singers - Stand On The word (The Larry Levan Remix) & T Coy - Carino
We had to take a break from travel for a couple of years when we decided to buy and renovate a house. 6music got us through a lot of painful DIY! When the house was finally done we celebrated with many a kitchen disco. These were always on the playlist..
Grace Jones - La Vie En Rose
During the house renovation hell Dan turned 40 and we did take time out to celebrate with a mini-break in Amsterdam, followed by Festival Number 6. The amazing Grace Jones headlined. Unforgettable! We love her and this song was definitely the highlight:
Chaka Khan – Fate
We always said it was Fate that we met - on a Sunday afternoon in The Adelphi (a pub in Leeds). I was only there because I'd got a new job that started on the Tuesday - so was celebrating on the Sunday. Dan's friend's car windscreen had been smashed in. This meant he couldn't get home, so they went to the pub instead.
For my birthday last year, Dan surprised me with a trip to Florence and popped the question by the River Arno on our first night 😊 All the above tracks will be played at some point during the celebrations when we tie the knot next week (eeeek!) as well as the following... all on the request list for our fabulous DJs..
Tornado - Minako Yoshida (sexy Japanese vibes!)
Idris Muhammad - Could Heaven Ever Be Like This?(one of our first dance songs)
Gregory Porter - 1960 What (dance floor filler!)
And here are a few more…
Michael Jackson - I Can't Help It
Stevie Wonder - Paradise
The Pointer Sisters - Automatic
David Bowie - Golden Years
The Whispers - It's A Love Thing
Wake Up Gigs With Kids
8th November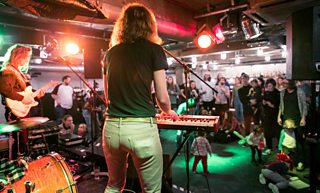 Sarada Chunduri-Shoesmith created Wake up Gigs, when she found herself missing out on live music, after becoming a parent (to Edwin).
Hey Duggee aside (she says that show has great music) Sarada didn't just want to go to child-focused music events and a baby-friendly rave wasn't what she was after, musically.
Sarada does not work in music (or events). This is a passion project for Sarada and her husband Adam who succeeded - after much persistence - in creating a new music showcase that parents can enjoy, in a baby-friendly east London venue - at baby-friendly times!
The venue is Concrete, in Shoreditch, and the first-ever Wake Up Gig was in 13th November 2016 (with Malka headlining). So their one year anniversary is approaching. Not only did they cover their costs, but they raised £600 for charity.
The next event is 3rd December. Details @WakeUpGigsLdn
Here Sarada tells us about favourite tunes, from her child-free gig-going days, through to the first band she booked for her new venture.
Foo Fighters - Big Me
Before meeting Adam I was always a big fan of music but Asian girls weren't meant to go to gigs. The first band I saw of my own accord (as much as I loved accompanying my parents to see Bollywood shows) was an awkward 17 year old seeing these guys at Wembley. I yearned for more intimate experiences in music venues but the adrenaline rush didn't leave me.
Keane - Somewhere Only We Know
Whilst we recognise this earns us very few cool points, Adam and I met at a surprise Keane gig in February 2004 at the then Villiers Theatre in London. There really was no other reason for us to meet, we were both at different London universities with very different backgrounds and probably futures at that point.
Beck - Everybody's Gotta Learn Sometimes
A few months later Adam asked me out. We went to see a film on our first date - the choices were Kill Bill or Eternal Sunshine of the Spotless Mind. We made the more romantic choice! Alongside this very apt and wonderful film, the Jon Brion soundtrack is very special. And this Beck cover stands out.
Arcade Fire - Wake Up
We were fortunate enough to see them to a few times in London and in France and after a particularly rousing set, the crowd started an impromptu singalong on the train home. It's moments like these that make live music so amazing, and the band inspired the name of our son (Edwin) and our musical venture (Wake Up Gigs) - daytime gigs for parents that they can bring their babies/children to.
Bloc Party - This Modern Love
We'd both love to think we are cooler than we are - and this band certainly helped us to feel this way. We spent a lot of time following bands around and watching the band progress over five albums. We got married 4 years after our first date, in the same theatre we met (where we first saw Keane). This song was apt to walk up to the stage to make our vows. And in life parallels, all these years on and Kele is back with a new solo record, Fatherhood, as a new Dad himself.
Hinds – Garden
I realised that the nausea and tiredness I'd been feeling for a few weeks was in fact confirmation that I was pregnant. We were in Lisbon at the very laid back Mexefest, as ever trying to catch a great new band.
Spector - Never Fade Away
Great Escape 2015 gave me my final pre-Edwin gig - and Spector were the last band I got to see. Rabble rousing, and king of the between song chat, Fred Macpherson, always has something to say that makes me, and the crowd, smile. The band were lovely enough to have even wished us a happy wedding anniversary a few years before in Amsterdam, so this was a great way to 'go out'!
Tame Impala - The Less I Know The Better
Understandably we didn't get to see many shows in Edwin's first year, and of those that we did see it was few days we spent at a festival in Portugal that were most accessible for us. Watching these Tame Impala transform from cult heroes into main stage pyrotechnics was great fun, and this album proved just how far they had come.
Chic - Le Freak
This was playing in the background as we tried to figure out why no one was allowing us to see live bands and artists in decent venues with Edwin, during the day. Forever a funk, and not ashamed to be a disco fan either, Nile inspired grooves always make our feet tap!
Talking Heads - This Must Be The Place
What would David Byrne do? Seeking his advice from his How Music Works book has kept us both sane whilst trying to make what we do work. And this song always reminds me just how far we've come.
MALKA - No No No
Through a friend, MALKA came into our lives. Tamara was our first headline artist, and in fact the first artist to give us a definitive yes. She's an incredible musician, and also a mum of two. She performed for us just 3 months after giving birth with her second child.
Childcare - Getting Over You
And these cheeky chaps and lass were the last band to perform for us. We've followed them for a while, and were blown away by them at Great Escape earlier this year. Ex 'manny' and lead singer Ed (Ian) had some prior experience that made what we are doing make sense, and even brought the family he cared for along to this show.
David Bowie - Space Oddity
We set up Wake Up Gigs as that desire to see live music in the way we did pre-Edwin will never go. We hope that it gives parents a little bit of their old lives back and to be able to enjoy listening to live music from new artists once again. We hope what we are doing is working, on Edwin at least, as this is his first favourite song that isn't a nursery rhyme. I might get bored of Old MacDonald, but his repeated request for Major Tom always strike a chord.
The Family Jukebox
1st November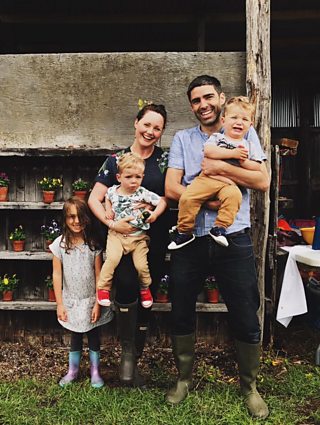 Today's Memory Taper is Caroline Sheehan from South Manchester who's sharing her Family Jukebox Memory Tape.
Caroline is a childrenswear designer with three children - 6-year old Orla and 2-year old twins Jude & Joseph – who somehow still finds time to write a blog with her friend photographer Anna.
The blog's called The Curve, it features music, design, photography, food, home, style, craft and adventure for families who want to enjoy the good things in life, without the hassle.
Caroline says: "A couple of years ago whilst on maternity leave with my twins I decided I wanted to use a different part of my brain and start a family blog with my friend Anna... kind of a spare time thing that helps keep us sane every now and then. As a regular feature I came up with the idea of steadily creating a playlist called The Family Jukebox - sharing recommendations of what we've been listening to as a family… music that is totally accessible to younger ears but not 'kids music'. We listen to loads of different types of music in our house and I love seeing how all three of my kids react to hearing certain tracks for the first time, what they imagine the music is about and what kind of crazy dancing it all generates. We all often have a bit of a front room rave up on weekend mornings. I'm enjoying these moments while they're not old enough to feel officially too cool to be dancing with their parents."
The Family Jukebox Mixtape Longlist
Field Music - The Noisy Days Are Over
Goat - Run To Your Mama
The Beatles - Blackbird
Kraftwerk - The Robots
Calexico - Cumbia De Donde
Musical Youth - Pass The Dutchie
The Allergies ft. Andy Cooper - Rock Rock
Harry Belafonte - Jump In The Line
Dobie Gray - The "In" Crowd
Jungle - Busy Earnin'
Jamie T - Zombie
Stealers Wheel - Stuck In The Middle With You
Beastie Boys - Intergalactic
Young Fathers - Nest
Teleman - Tangerine
The Orb - Little Fluffy Clouds
Tom Tom Club - Wordy Rappinghood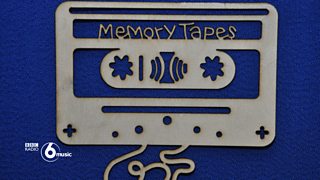 Did you ever make a mix tape for somebody? Did they ever make one for you? We've had mixtapes for friends and from loved ones, the soundtrack to breakups, starting bands, songs played in shops to self-help playlists. We want to hear your Memory Tape, simply email us with the track-listing and story behind it: lauren.6music@bbc.co.uk
The Desert Island Disco is your opportunity to create the perfect dance floor soundtrack. Send us 10-15 of your best party tracks, and check out what previous listeners have selected.