Main content
The Beautiful Game and Other Stories
If you're into football – or any other sport – you'll be used to stories. You listen to them when managers are interviewed after games. You read them when you look at match reports. You hear them when you're following the football on the TV or radio.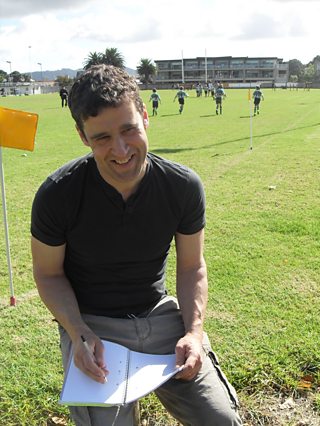 Sport is full of people telling stories. That means you're a bit of a story expert.

Tom Palmer, Author of Foul Play
Sport is full of people telling stories.
That means you're a bit of a story expert.
When a player or manager is interviewed after a game they are usually telling a story. Their story.
Interviewer: How do you feel about today's defeat?
Manager: [angrily] It shouldn't have been a defeat. If we had been given a
penalty when our player was fouled then we'd have gone on to win.
The referee cheated us.
That's the start of a story. The manager says there has been an injustice. His team should have had a penalty. They deserved to win. He has told us that there is a villain in the story too: the referee.
Stories don't have to begin with once upon a time. Pretend you are interviewing someone who has a story to tell. Interview a footballer if you like. Or a girl at your school who's just been abducted by a UFO. Whatever.
Write your story like an interview. That's fine.
Match reports usually have a structure. The journalist who wrote the football report you read this weekend wanted you read all of it. That's why they start with a taster of what the key part of the game was, to whet your appetite.
For most of last night's Liverpool-Chelsea match Liverpool were in control of
the game. A game that – if they won – meant they'd be champions for the
first time in 27 years. And it looked like that was going to happen, until
their most-loved player, Steven Gerrard, slipped and fell…
This is the beginning of another kind of story. You know that Liverpool should win. But suddenly their top player is on the floor. The match reporter has described a fantastic cliffhanger.
You want to know what happened next.
This is a great way of grabbing the reader's attention.
Try it in your story.
A match commentary tells the story of a game. As it happens. At speed. It's a kind of live storytelling.
The commentator has something happening right in front of them, in real-time, for them to describe. You don't. But, if you can make up a plan for a story before you write it, and plot out all of the events, this sort of speed-writing is a great way of writing the first draft.
Be a commentator.
Don't stop to correct errors. Don't stop even to correct spellings. Just speed on, write the story, then you can go back and change it afterwards.
Commentators don't have time to stop and correct themselves. And that works well for them. Pretending you are a commentator can work well for you too.
More from 500 Words
Honorary 500 Words Judge HRH The Duchess of Cornwall appears in our special animation.

Everything you need to know about Radio 2's short story-writing competition for kids.