Main content
Meet the Eurovision Young Musicians finalists
19 August 2018
On Thursday 23 August six talented teenagers will perform with the BBC Scottish Symphony Orchestra as they compete in the final of Eurovision Young Musicians. Ahead of the contest, which will be broadcast on BBC Two Scotland, BBC Red Button and BBC Radio 3, watch the dazzling performances that secured them a spot.
After a weekend of semi-finals at the Edinburgh International Festival, six musicians have been selected from the original 18 to progress to the final of Eurovision Young Musicians. The finalists are:
From Germany – Mira Foron on violin
16-year-old German violinist Mira Foron was born in Stuttgart and comes from a musical family. Both of her parents are professional musicians and her older brother is a successful conductor and pianist. Mira played two works in the semi final: a 1994 piece called Cadenza by the great Polish contemporary composer Krzysztof Pendercki and Ravel's highly virtuosic concert rhapsody Tzigane. Her pianist is Minze Kim.
From Russia – Ivan Bessonov on piano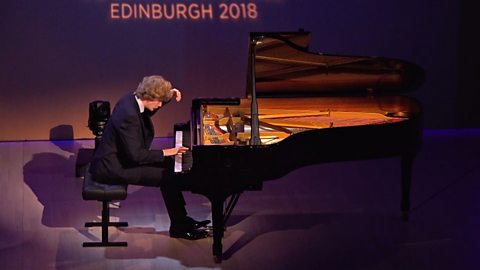 The Russian pianist performs works by Chopin, Rachmaninov, James MacMillan and Prokofiev.
Russian pianist Ivan Bessonov didn't just have to beat other instrumentalists to win his place at the Eurovision Young Musicians semi-finals. He was up against pop singers, ballet and folk dancers and even circus performers when he won the Russian talent show Blue Bird. He is 16 years old and studies at the Central Music School at the Moscow State Tchaikovsky Conservatory.
Ivan began with Rachmaninov's Opus 23 Prelude in G Minor and played two popular works by Chopin, a Mazurka in B flat minor and the Fantaisie-Impromptu in C sharp minor. He then played Barncléupedie by the Scottish composer James MacMillan, who is one of the judges in the final of this year's competition. He finished with terror at the keyboard, in Prokofiev's Satanic Apparition.
From Norway – Birgitta Elisa Oftestad on cello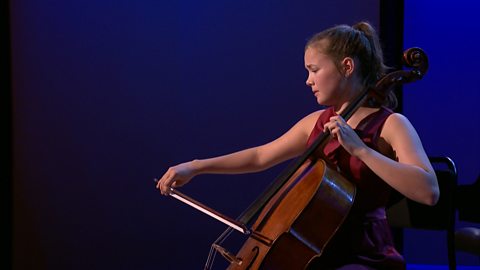 Norwegian cellist Birgitta Elisa Oftestad performs works by Shostakovich and Schumann.
Birgitta Elisa Oftestad from Oslo is 16 years old. She has already performed as a soloist and chamber musician at the Oslo Chamber Music Festival, the Kaunas Festival in Lithuania and the Bergen International Festival.
First she played Shostakovich, the first movement of Cello Concerto No 1, which Shostakovich wrote for his friend Rostropovich – who then memorised the work in four days. Schumann wrote his Adagio and Allegro for horn but it works very well on cello too. Her pianist is David Meier.
From the Czech Republic – Indi Stivin on double bass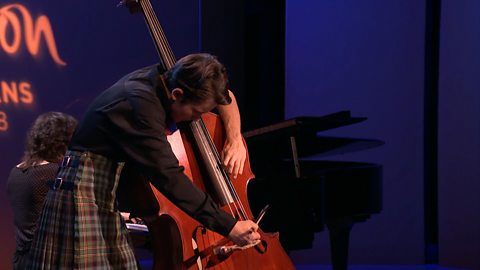 The Czech double bassist performs his own composition, Bohemian Suite.
16-year-old Indi Stivin was born in Prague and started out playing piano and violin. But at the age of nine he fell in love with the double bass and decided he wanted to play this instrument because of its deep and soothing sound. Soon after he began to write his own double bass compositions. He played his own works in the semi-final – his Bohemian Suite.
Indi says: "I always wanted to write music for double bass, where it would lead the melody and it could show its singing power". The Celts who lived in ancient times in Bohemian land were the first inspiration for the composition. The second part tells a story of a peaceful land in the heart of Europe, and the third part is about life in his hometown, Prague. Alice Springs is his pianist.
From Slovenia – Nikola Pajanović on violin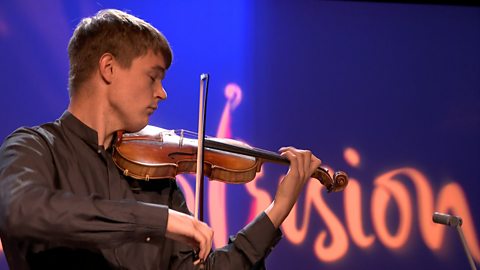 The Slovenian violinist performs works by Paganini, Kreisler and Ysaye.
Nicola Pajanovic is 18 years old and was born in Ljubljana, where he is currently a third-year student at the Academy of Music. He began with Paganini's Caprice no 7, dedicated to Liszt. The composer of his second piece, Fritz Kreisler, is said to have got the idea for his Tambourin Chinois after a trip to the famous Chinese Theatre in San Francisco. "Not that the music there suggested any theme", he said, "but it gave me the impulse to write a free fantasy in the Chinese manner."
Central European folk songs inspire Nicola's final choice, Ysaye's Sonata for solo violin No 3, written for Romanian violinist and composer George Enescu. Tea Andrijić is his pianist.
From Hungary – Máté Bencze on saxophone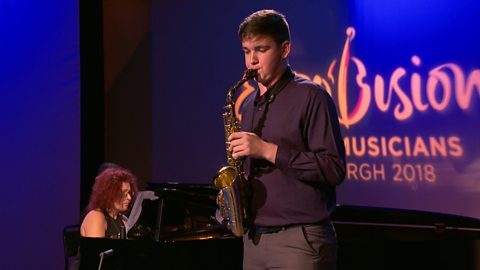 The saxophonist performs pieces by Demersseman, JS Bach and Iturralde.
A jury prize from TV show Virtuozok paved 18-year-old Mate Benczeroute's route to Edinburgh. He comes from Debrecen and his other passion alongside music is sport, specifically BMX riding and basketball.
His programme began with music by the composer Jules Demersseman – a friend of Adolf Sax – inventor of the saxophone. It was followed by an arrangement of an allegro by Bach, possibly Johann Sebastian, but more likely CPE Bach, and originally for flute. He finished with music by Spanish saxophonist Pedro Iturralde, who wrote the Paquena Czarda when he was 20 years old for a friend. Edit Richter is his pianist.
Eurovision Young Musicians The Final: 2018 is on BBC Two Scotland at 8pm on Thursday 23 August, available nationally on BBC iPlayer and broadcast on BBC Radio 3 on Friday 24 August at 2pm.
More from the Edinburgh Festivals 2018