Main content
The Ultimate Office Christmas Lunch with Rick Stein
***This auction is now closed***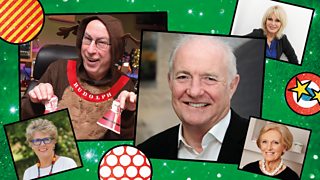 Auction Date: 14th November 2018
Event Date: Monday 17th December 2018
In Studio Phone Auction Telephone Number - 0345 609 22 11
(Standard geographic charges from landlines and mobiles will apply)
If you've not had your Office Christmas Lunch yet, or are thinking what and where to do it, then this is the package for you…
The top ten bids will get a table for six at Rick Stein's in Barnes for The Ultimate Office Christmas Lunch.
Hosting the lunch along with Chris, Vassos, Rachel and The Breakfast Show team will be will be Rick's Angels – The Queen of Baking Mary Berry, the Absolutely Fabulous Joanna Lumley and the newest judge of The Great British Bake-Off Prue Leith.
This year with added sparkly hosts - Angela Scanlon, Alex Jones, Gaby Roslin, Rev Kate Bottley and Carol Kirkwood.
On arrival there will be a champagne reception with Canapés, which will give you enough time to mingle with all the other guests, your superstar hosts and of course Rick Stein.
You will enjoy a four-course menu specially designed by Rick and his team, along with accompanying wines selected by his youngest son and expert Charlie Stein.
After lunch it will be a hop skip and jump over to the local pub – The Coach & Horses, for a special festive edition of PopMaster hosted by the legendary Ken Bruce.
Its foodie's heaven, it's showbiz-tastic, it's a great day out and it'll be a right laugh complete with baubles and tinsel.
Rick Stein CBE is a Chef, Restaurateur, Cookery Book Author and TV Presenter. He has written over 20 cook books, an autobiography and appeared in more than 30 programmes. He has also cooked for The Queen & Prince Philip, Tony Blair, Margaret Thatcher and French President, Jacques Chirac.
Rick is best known for a love of fresh seafood and made his name in the 90's with his earliest books and television series based on his life as chef and owner of The Seafood Restaurant in the fishing port of Padstow on the North Coast of Cornwall. As he said at the time "nothing is more exhilarating than fresh fish simply cooked".
Since then he has expanded his horizons to cover numerous journeys over the world in search of great dishes, and also increased his business empire – including Rick Stein, Barnes.
Requirements
Unless specified any accommodation and travel will be the responsibility of the successful bidder.
You must be 18 or over to enter the auction and attend the event.
Arrival will be 11:45am and Lunch will finish at approx. 4:00pm.
It will be a walk to The Coach & Horses, Barnes for a festive PopMaster hosted by Ken Bruce.
All monies must be received within one week of the auction closing date. Staff at BBC Radio 2 and BBC Children in Need will ensure all Auction Items are claimed and paid for within one week of the auction closing date. Neither the BBC nor BBC Children in Need can accept any liability for payments not received as a result of failures in the postal service or otherwise.
Privacy notice
The BBC complies with the provisions of the Data Protection Act 2018 and the General Data Protection Regulation 2016/679 in processing personal information. BBC will collect and process the personal information that you have provided about yourself which will include your name, contact details. The personal information that you provide will be processed for the purposes of fulfilling the auction and the auction Items. The legal basis on which the BBC processes your personal information is for the legitimate interests of the BBC in fundraising for BBC Children in Need and we don't believe this unreasonably impacts on your rights and freedoms. The BBC will retain your information for twelve months. BBC will share your details with BBC Children in Need for the purpose of BBC Children in Need contacting winning bidders to arrange payment for their item. For the BBC's privacy policy, please see www.bbc.co.uk/privacy.
BBC Children in Need complies with the provisions of the Data Protection Act 2018 and the General Data Protection Regulation 2016/679 in processing personal information. BBC Children in Need receive your name and contact details from the BBC as set out above. The personal information will be processed for the purposes of fulfilling the auction Items. The legal basis on which BBC Children in Need processes your personal information is our legitimate interests of fundraising and we don't believe this unreasonably impacts on your rights and freedoms and fulfilling the auction Items. BBC Children in Need will retain your information in accordance with its retention policy an extract of which is available on request. BBC Children in Need will share your details with a third party who fulfils auction Items on behalf of BBC Children in Need. For more information including in relation to your data protection rights please see the BBC Children in Need's privacy policy. If you have any worries or complaints about the way we use your information, please don't hesitate to get in touch with us. BBC Children in Need's contact details are here.
Children in Need 2018
A celeb-filled day of fun dedicated to the amazing work of Children in Need.

Find out all about Children in Need, including how your money improves children's lives.

Make a donation to Children in Need 2018 (By clicking this link you will be moving to the BT MyDonate web page. Please note that this is subject to the BT My Donate Terms & Conditions and Privacy Policy).