Main content
Green Bean Casserole
Stephen Chisholm's Bean Casserole And Sweet Potato And Marshmallow Pudding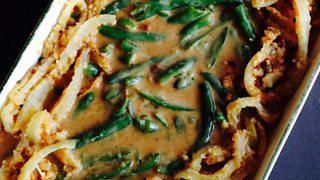 1x400g can cream of mushroom soup
125ml milk
1 tsp soy sauce
1/4 tsp black pepper
500g green beans
1 spring onion, sliced
80g French fried onions
Method
Preheat oven to 195°C /175°C. Combine all ingredients, reserving the fried onions and transfer to a casserole dish. Bake for 25-30 mins adding the remaining fried onions for the final 5 minutes.
Sweet Potato and marshmallow pudding
1kg sweet potato, peeled and cubed
1x410g can evaporated milk
175g light brown sugar
2 eggs
2 tsp cinnamon
1 tsp nutmeg
½ tsp ginger
½ tsp allspice
½ tsp salt
40g melted butter
100g marshmallows
Method
1. Heat the oven to 220°C/200°C fan. Roast the sweet potato until soft and tender. Transfer to a bowl to cool.
2. Reduce the oven to 180°C /160°C fan. When the potatoes are cool combine all remaining ingredients except the butter and marshmallows until smooth. Pour into a 9 inch casserole dish or cake tin and pour over the melted butter. Bake for 40-55 mins or until just set and golden.
3. Sprinkle over the marshmallows and bake for the last 5 mins to get a lovely melted, golden top.