Main content
Samuel's Story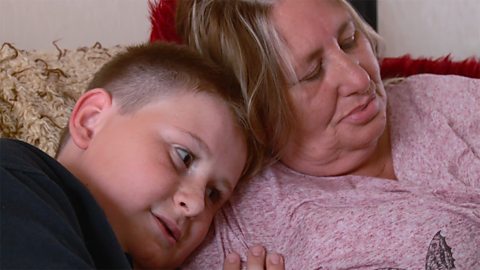 Samuel, who is nine years old, lives with and helps care for his mum Sandra.
Nine-year-old Samuel lives with single mum Sandra in York. Sandra has Transient Ischaemic Attack (TIA), a condition often described as 'mini strokes'. She can have up to two of these attacks a day, which last up to five minutes but can be fatal if they develop into a full stroke. Sandra suffered her first full stroke when Samuel was two years old and he has been caring for her since he was old enough to do so.
Samuel has been supported by the BBC Children in Need project, The Island.
He says: "When I'm off duty from looking after mum, one of my favourite hobbies is Doctor Who, it's just so adventurous the way he meets aliens and monsters. I collect the models from the TV show and I have loads but John Pertwee is my favourite Doctor of them all!
"It was our home warden who told me and mum about the young carers club run by The Island. I thought it sounded interesting and new so I gave it a go. Steve was my mentor for a while and we used to go out to cool places. It was good to talk to him about me and my life. He had to move so I am in between mentors now and considering another one. It's been a very positive thing to do."
The Island N1 Project, based in York, is funded by BBC Children in Need and runs a mentoring service to support over 50 young people who are socially excluded via a range of activities including conversation times as well as getting out and about and active via sports or social meetings.
Watch Looking After Mum: A Children in Need Special on iPlayer
Every penny makes a difference to children's lives right here in the UK. Thank you for your support