Main content
BBC Radio 1's Teen Heroes of 2019
BBC Radio 1's Teen Heroes 2021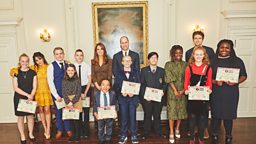 Hazel, Rachel and Scarlett are named Radio 1's Teen Heroes of 2019 as the 10 finalists head to Kensington Palace to meet The Duke and Duchess of Cambridge.
The Teen Heroes were joined by Camila Cabello and BBC Radio 1 DJs Clara Amfo and Greg James as they were praised by Their Royal Highnesses for their dedication to helping others.
You can read their inspirational stories below:
Hazel
12 year-old Hazel lives with a rare genetic disorder called Xeroderma Pigmentosum (XP) which limits the body's ability to repair damage caused by UV light. After being diagnosed at three, Hazel was advised by doctors to stay indoors indefinitely, but she has since learnt how to manage the condition safely in her daily life with support from charities and specialist clinics.
'At primary school, children wouldn't understand the severity of my condition and would often try to knock off my hat and visor. As a result, this made me feel very isolated and painfully shy in social situations'

Hazel
Hazel has raised awareness of XP by making a film and giving talks to schools in her local area, and has raised £2,000 for the charity that supported her by climbing the 900m high Ben Lomond earlier this year in her protective clothing.
Rachel
Rachel, aged 17, campaigns for change and better futures for young people in the UK. She is a volunteer for her local youth council and a member of the UK Youth Parliament, and has won a Diana Award for her work towards tackling cyber bullying.
'I feel extremely passionate about talking knife crime because I see young people feeling safe as a priority and want to ensure that the voices of all young people are heard in society.'

Rachel
Rachel is also chair of the UK Youth Select Committee, which this year has been focussed on knife crime.
Scarlett
14 year-old Scarlett is a young carer to her mother, older sister and grandmother. Both Scarlett and her mum have an incurable nerve condition called HNPP, which can make everyday activities like carrying shopping bags extremely painful.
'I still make time to follow my passions - writing poems, stories and learning history!'

Scarlett
As well as helping her mum, Scarlett cares for her sister, who has type 1 diabetes. A typical day for Scarlett, who also has autism, includes helping round the house, gardening, walking her Nanny to church and entertaining the other church goers.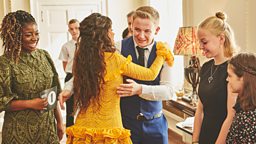 And here are this year's amazing finalists...
Beth
Beth volunteers as a multi-sports coach for adults with learning disabilities, and as a tennis coach for young children. She spends around 14 hours a week coaching tennis, and has inspired over 50 junior volunteers to take part in the club's activities. She was also voted by her peers to be president of a mental health campaign at her school, and gives regular talks aimed at promoting students' mental wellbeing.
Jake
Jake is a DJ who uses Makaton (a language programme which uses signs and symbols to help people communicate) to make his sets inclusive for everyone. Jake started using Makaton after he saw his cousin Alice, who has Down's syndrome, struggle to understand what the entertainers were saying during a show. He has since received a British Citizen Youth Award for being a key ambassador for Makaton, and runs workshops to demonstrate how he uses it.
Josh
Josh was saved by Magpas Air Ambulance in December 2014 when he was crushed between two cars, and has since become the charity's youngest ambassador. Despite needing 17 operations and ongoing treatment on his legs, he has worked hard to fundraise for the Air Ambulance, completing walks, raffles and even an annual fish-a-thon.
Liv
Liv has been campaigning for water safety in her local area after the loss of her best friend, who sadly drowned last year. She has campaigned to raise awareness about the high risk of drowning in the local area, and has been calling for better water safety measures to be put in place at all public parks and rivers. So far, she has backing from her local council to put warning signage up by these water bodies, and has been invited to Westminster so Parliament can learn about her campaign. Liv also set up her own LGBT support group at her new school after being bullied for her sexuality.
Olly
While undergoing surgery and treatment in hospital after being diagnosed with a malignant brain tumour called a medulloblastoma, Olly found that the pre-teen ward lacked some of the facilities that the teenage ward had. He worked with hospital staff to learn how he could raise money for the ward, and now runs the Team Olly fund under his hospital's charity. So far the fund has amassed over £88,000, with Olly running a variety of fundraising events and rallying for donations. His work has earned him the Champion Child of Courage in the 2018 Chronicle Champions Awards.
Mattie
Mattie, who was born with a skeletal disorder, has worked with teachers at his school to make sport inclusive to all. He has spoken out about his condition and explored inclusion issues through talks at his school and in the media. He has also joined up to a modelling agency, aiming to empower others to build understanding and courage, and has won multiple medals at the World Dwarf Games.
Lily
Lily supported and looked after her younger brother Hamish who passed away from cancer after undergoing two rounds of extensive treatment. Her mother has also been diagnosed with cancer and is currently undergoing chemotherapy. Lily has helped raise over £50,000 to give back to the charities that supported him and their family, organising fun runs, bucket collections, coffee mornings and bake sales to get the whole community involved. Lily is also fundraising to revive their local park where Hamish used to play, to give back to the community in her brother's memory.
The winners will be presented with their award on Sunday 24th November at Radio 1's Teen Awards.
This year's ceremony will be hosted by Radio 1 DJs Greg James, Maya Jama and Mollie King, with performances from YUNGBLUD, AJ Tracey and Jax Jones.
You will be able to watch the show on BBC Two on 30th November.
And for the chance to be in the audience, you can register for tickets here from Monday 28th October 8am.