Main content
From the fringes to the front row: Fashion crossovers and landmark moments in hip-hop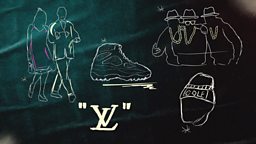 By Emma Finamore, 19 September 2019
Hip-hop, and the style that's associated with it, was once seen as being at odds with the exclusive and avant-garde world of high fashion, but over the last few decades it's moved from the fringes right up to the front row.
From the days of getting creative to sidestep the price-tags and snobbery of luxury brands, to signing million dollar deals with labels, sell-out sneakers collabs, and now leading the way on the catwalk (as well as in the sales figures) here's how hip-hop's more than made its mark on the world of fashion.
Hip-hop on 1Xtra
A weekly selection of our favourite hip-hop from both sides of the Atlantic
Fashion on the fringes
In the 1980s hip-hop was very much a fashion outsider. From the New York crews like Lo Life and rapper Thirstin Howl III – making a lifestyle out of boosting Polo Ralph Lauren from high end stores – to Dapper Dan, a Harlem designer creating custom-made outfits for rappers by printing the monograms of names like Louis Vuitton, Gucci and Fendi onto tracksuits, bomber jackets and baseball caps, if those in the rap world wanted an upscale look, they had to get imaginative.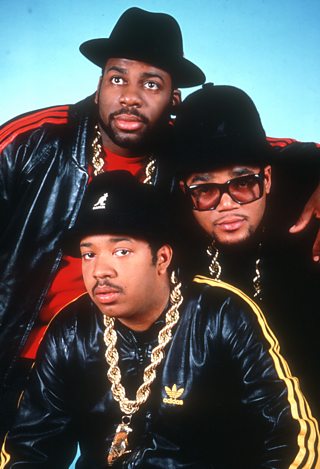 Run-DMC's million-dollar deal with Adidas sparked a sea change for hip-hop's relationship with fashion. Credit: Getty
"No one would ever have imagined a leader in fashion, in that realm of menswear, would [go on] to reach down and put hip-hop on the same platform," said Frank 'The Butcher' Rivera – sneaker and streetwear expert – in a 2015 interview about this era, before big sports brands and high end labels embraced hip-hop and its stars.
The tide began to turn in 1986, when Run-DMC signed a million dollar deal with Adidas, a brand they'd been wearing (and rapping about) for years without remuneration. When Def Jam label boss Russell Simmons invited Adidas executive Angelo Anastasio to see Run-DMC perform at Madison Square Garden, he saw thousands of fans holding up their footwear while chanting the words to hit track 'My Adidas'.
This sparked the first deal of its kind, laying the groundwork for decades of collabs and endorsements between hip-hop and fashion, from Kanye West becoming Nike's first non-athlete to receive a signature shoe (the Air Yeezy), to A$AP Mob fronting a Calvin Klein campaign.
Dapper Dan was part of this turning tide, too. He went from opening his bootleg garms boutique in 1982 on East 125th Street, to dressing the likes of Salt N Pepa, LL Cool J and Big Daddy Kane, to being paid the ultimate fashion tribute in 2018 – when Gucci created an entire collection inspired by his archive.
Changing the game
As well as sports brands and designer labels beginning to embrace hip-hop, the late 1980s and early 1990s saw another shift, with a group of artists putting a very different spin on their style.
Native Tongues were a collective of socially conscious rappers and producers, made up of people like Queen Latifah, A Tribe Called Quest, Jungle Brothers, De La Soul, and Britain's own Monie Love. Their brightly coloured, Afroentric style – vivid prints, African medallions and beads, and kofi hats (also a favourite of Salt N Pepa) – set them apart from their peers.
This buoyant and bold aesthetic matched an entire ethos, at odds with the burgeoning gangsta rap scene: the Tongues were positive-minded and proudly Pan-African, which came through in their lyrics, their eclectic sampling and beats, and album artwork – see Latifah's powerful 'All Hail The queen' cover, or Tribe's 'The Low End Theory' and 'Midnight Marauders' with their colourways nodding to Marcus Garvey's Pan-African flag design.
The style pushed forward by Native Tongues wasn't just an aesthetically interesting contrast to the label-heavy look adopted by most other hip-hop stars of the time, it demonstrated that there was a more mindful alternative to the increasingly consumerist culture that drove it.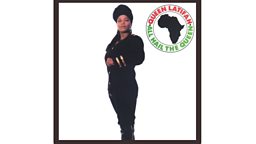 Above: Queen Latifah's powerful 'All Hail The Queen' artwork is an example of the Native Tongues aesthetic
What makes ethical dress sense for people and planet? Model Charli Howard shows us how to be sustainable and stylish with the podcast that fixes fashion while fixing the world.
All diamond everything
As the 1990s got underway, hip-hop and fashion's relationship really bloomed, and it became a pairing all about excess: big diamonds, bigger chains, and even bigger brands.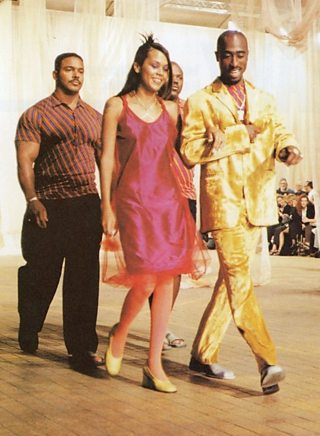 Above: Tupac walks down the runway at a Versace menswear show, joined by then-girlfriend Kidada Jones and his bodyguards. Credit: Getty
One of the decade's most iconic rappers, Tupac, embarked on a veritable love affair with one of its most iconic labels - Versace. He wasn't the only hip-hop star to wear (and even rap about) the luxury fashion house, but he did become something of an unofficial ambassador, developing a friendship with Gianni and Donatella – who gifted him custom-made outfits, exclusive show invites, and even had the West Coast rapper walk the runway for them at a show in Milan, in 1995.
Ghostface Killah's Versace medallion, said to be worth $50,000, is emblematic of just how outlandish rappers could be with their chains in this era – see also Rick Ross' chain of himself (yes, really) and T-Pain's "Big Ass Chain"… literally. The impact of this side of hip-hop style can still be seen today, with rappers like Birmingham's MIST bringing the look back. His renowned collection of chains features one particularly poignant piece, depicting his beloved late mother.
Moving into the early '00s, hip-hop and fashion really began to have fun. Labels like Baby Phat – an extension of Russell Simmons' late '90s label Phat Farm – was worn by the likes of Lil Kim and Aaliyah (Kim and Puff Daddy's actually mum walked at its first show), and embodied the carefree fun of the time: think flip-phones, diamante logos, and dangerously low-cut jeans. Elsewhere people like Nelly pushed forward the era's irreverent spirit in his sweatbands, oversized basketball jerseys, tracks about Nike Air Force Ones – and of course, that plaster.
"Versace, Versace, Versace!"
Things started getting really serious when one of the biggest names in hip-hop went back to school – to train in fashion. In 2009, after collaborating on sneakers lines with Nike and Louis Vuitton, Kanye West did an internship at Fendi, in the same class as Virgil Abloh. This led to the two founding retail concept space RSVP Gallery in Chicago, and West appointing Abloh the creative director of his agency, DONDA. Later, Abloh would found the award-winning label Off White and land a job as head of menswear at Louis Vuitton, via work with the likes of Moncler and Nike – 'The Ten', a reimagining of 10 of their iconic silhouettes – epitomising the coming together of street wear and high fashion with projects like his Supreme x Louis Vuitton collab.
Kanye also took his fashion credentials to the next level, demonstrating how rappers have gone from wearing high-end to making it themselves, working with Burberry CCO Riccardo Tisci on the artwork for 'Watch The Throne' (a musical collab with Jay-Z) and on the Givenchy clothing for the album's tour; the Yeezy Boost with Adidas; collections with A.P.C and Balmain, as well as showing numerous lines of his own Dw and Yeezy labels at Paris and New York fashion weeks. For Kanye – as he made clear in this 2015 interview with Zane Lowe – fashion is as much a part of him as music is.
Kanye isn't the only hip-hop star to take collabs and his own designs to the next level in this era. Tyler, the Creator launched his own label Golf Wang (a cheeky nod to Odd Future's full name), full of irreverent designs in popping colourways – neon green leopard print snap-backs and bright basics. Drake has collaborated with the likes of Louis Vuitton and Canada Goose, and produces his own clothing line under record label OVO, as well as working on collections for Nike's Air Jordan sneakers. This side of the Atlantic, Tinie Tempah launched his minimalist label What We Wear at London Fashion Week Men's in 2017.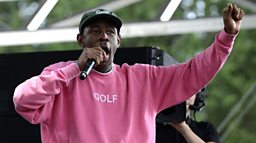 Above: Tyler, the Creator, repping his own Golf merch while performing in 2014. Credit: Getty
Last year Wu Tang Clan – the most iconic crew in hip-hop – teamed up with Clarks Originals on their own line of Wallabees, a shoe with long history in rap music, some in their 'Wu Tang Killer Bees' signature yellow and black colourway.
As well as going high-end, the '10s saw a new phenomenon: pop-up shops. From Odd Future's store on the Lower East Side to Kanye's Pablo pop-ups all over the world, these offer a unique way for hip-hop stars to connect with fans and curate an entire retail experience for them – not to mention the hype generated by an element of surprise.
Beyond fashion week
The love affair between hip-hop, grime, R'n'B and fashion isn't going anywhere. From rising UK rappers like Octavian walking the Louis Vuitton runway to Travis Scott's recent capsule collection for legendary New York label, Helmut Lang, it looks like – while sneakers collabs are still a safe bet – rappers are set to delve further into design and high-end clothing.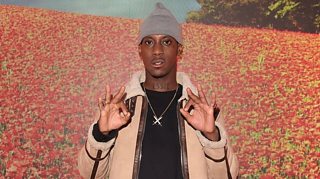 Above: Octavian attends the Louis Vuitton and Virgil Abloh London pop-up in 2018. Credit: Getty Images for Louis Vuitton
Artists also look set to be stamping more of their own mark and personality into their designs, rather than simply adding their name to collections. Cardi B's second line with Fashion Nova, for example, reportedly hit $1 million in sales within the first 24 hours of its debut, with collections that emulate her own bold, vivacious style. In September (despite also announcing her retirement) Nicki Minaj revealed a capsule line with Fendi, all playful pinks and shiny silvers, flirty little handbags and oversized shades – with clear references to her own look.
Stormzy's #Merky brand references his tracks and lyrics on t-shirts and hoodies, while he's released an extensive apparel collection with Adidas as well as his first signature sneaker earlier this year. Alongside Dave, Big Mike also graces the cover of magazines like GQ in classic tailoring, demonstrating the grime's increasing ubiquity in the world of fashion. There's still a great deal of progress to be made, and rap's biggest names seem wise to it.
More from 1Xtra
Reece Parkinson joins weekly guests to have honest, frank and real conversations about your life and your issues.

The freshest RnB cuts peppered with serious classics under the expert guidance of 1Xtra