Main content
What's it like to perform in the Live Lounge? Craig David fills us in...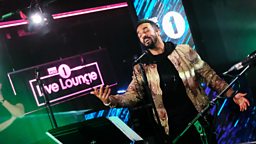 He's a seasoned pro as far as the Live Lounge is concerned, so who better to quiz on all things lounge-based than Craig David?! (Rhetorical question, ofc.)
From butterflies to social media highs, here's what the smoothest guy in the game had to say about performing live in Radio 1's revered studio...
Clara welcomed Craig David back into the Live Lounge, together with Dan from Bastille, to perform their single I Know You.
You're fresh from performing in the Live Lounge! How did it feel?
I love the Live Lounge. It's an amazing concept. It gives artists who really do love to perform live an opportunity to obviously do the single that they may be promoting but when you do the cover, it gets really creative. At that point, if you love that kind of stuff, you relish the moment.
What do you look for in a song when you're picking a cover?
I want a song that people won't necessarily think that I would sing. So rather than it always being, say, an R&B record or something they think "I could hear him singing that", I'll instead go with maybe a female artist, so that's going to give it a different flip.
And then because I'm very much about respecting the original song, it's about giving it enough of the original with the melody and then, in this case, flipping the lyrics and then taking the track just into some other places. So [today] we leaned into an afro-beat part halfway through and then we went into the Eamon song, which was a classic - the new generation need to know this tune, they won't even know the first time round! - so it's just bringing it back in a fresher way.
What's your favourite Live Lounge cover so far?
The Justin Bieber Love Yourself cover was a special moment because I think the way we flipped it on to a garage track and then the rap that accompanied it was just lightning speed.
The Justin Bieber cover was a special moment

Craig David
That was intense and I love it because the red light comes on and you know the whole nation is listening and you've done it a thousand times at home and you could just stumble one time right now in front of everyone but I just love it. And the way it went viral as well, I didn't expect that.
[With the Dua Lipa track] I just like the fact that I was able to approach it with a whole new lyric change. It's such a moment you've got in there: you've got the whole country, you've got a moment where you can really own the cover, and then sometimes just singing the tune is not enough, we've got to bring something else.
What's going through your mind as the countdown starts?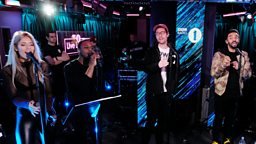 You just want to ground yourself because what happens is you can start to breathe a lot faster, it becomes quite high-frequency, whereas beforehand you were quite calm when you were doing it just having a jam with your band. Then there's that moment where that light comes on and you realise "OK, it's game time".
Then there's that moment where that light comes on and you realise "OK, it's game time"

Craig David
A lot of the honing of this stuff is weird because I realise that the things I did when I was a kid and all the little mistakes [I made] honed me for things like this where I'm ready for it. Whereas if you haven't done the groundwork, the homework, sometimes when you go in here you're like "Wow, this is the whole of the nation listening, people in their cars, people at work, people at home" and you can warp out.
That's scary, when you warp out and you think of people at home listening to it on the radio, because all of a sudden [you feel like] you're actually having an out of body experience, you're not in yourself. You're like, am I with Clara now watching it? Am I singing it? And there's moments where I have to look at people and just ground myself. They calm me.
Do you ever get nervous?
Some butterflies always happen beforehand! And it's the same even when I go onstage - I love it!
In the Live Lounge, you have that moment of the butterflies and you just want to open it confidently and then you're fine. If you don't open it confidently, you tend to find yourself halfway through a verse and it's like "OK, breathe" and then BOOM!
Has the feeling changed since you first started doing the Live Lounge in 2010?
I've got to a point where I walk up in here now and I just genuinely feel calm. There's a difference where you're like "you know what, I'm just going to give everything and not even think that anyone else is going to be listening, it's just us in a room jamming" and that's actually the best advice for any artist that goes in.
Don't worry about the live radio. You're doing an interview with Clara? She's just in the other room! Your band are in front of you having a little jam in the studio; stay there and then all of a sudden it feels very intimate and cool and then when you get out, you can go check your Twitter...
And how does that feel, when you check your social media and everyone's going mad for it?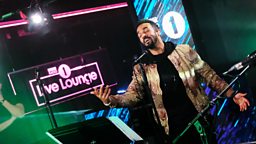 For me, it's the most amazing feeling that you can have. But I think what makes it even more special is that then when you come away from it and you start to see it for the magnitude of what you've just done.
I think what makes it even more special is that then when you come away from it and you start to see it for the magnitude of what you've just done

Craig David
To think that there was someone at work, in the car, taking their kids to school, getting their groceries... and you're just thinking that you are subconsciously in the minds of millions of people and there's going to be a moment that something happened when that song was playing that will always be with that person.
I think that those memories that you create makes coming and performing on the radio so special. I had a woman come up to me yesterday when I was doing a signing saying that she was in labour with her daughter when she was listening to Born To Do It and, 17 years on, she was at the signing with her daughter and the daughter was saying to me "I'm a huge fan of you!" and I'm just thinking: this is blowing my absolute mind.
I was getting really emotional because I was thinking I never expected this. That's what makes it all worthwhile.
How does it feel getting feedback from artists you've covered in the Live Lounge? How does it feel when artists cover you?
It's great! When I heard JP Cooper doing One More Time - I knew about JP Cooper but when he did it he came on to my radar fully and I was like "wow, what a voice". Little did I know that I'd be working with JP Cooper and we've got a song called Get Involved on the new album, and his voice is unbelievable.
Same for Jack Garratt! Jack had done 7 Days in the Live Lounge [and then we worked together]. So it always seems to be something that links up. So the latest one with Dua Lipa... I mean, who knows!