Main content
I Dream: A crowdsourced poem by young writers from around the world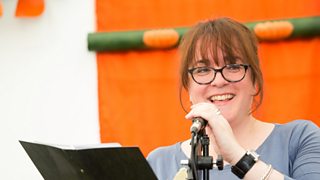 The Poetry Society's Julia Bird created a poem from a collection of lines by 20 young poets
To mark the event, The Poetry Society invited writers from their Young Poets' Network to contribute to a crowdsourced poem for performance at the festival.
Each of the writers – aged between 11 and 25 – was asked for their dreams, individually; collectively, these created a two-minute poem that was read live during Radio 3's Breakfast show on 10 March.
I Dream
I dream that when I'm older I would be able to play really good on the piano.
I dream loud for ultra-reality.
I dream of capturing time in a handful of words.
I dream of a universal written language.
I dream of a library of forbidden books.
I dream of my name on someone's favourite book and hidden in long-kept birthday cards.
I dream of being immortal.
I dream of getting a good sentence about my spirit.
I dream of waking up, and realising all my life has been a dream.
I dream of keys that match locks halfway across the world.
I dream our world will be safe; a world without any gravity.
I dream of a future where the world is not under siege.
I dream of wild landscapes, endless days and her hand in mine.
I dream of rain unrestricted and sun unowned.
I dream of the glittering prairies of the Atlantic.
I dream of the waves floating my bed, and sometimes I turn around
to dream of the boy who sits in front of me in history class even though I've only seen the back of his head.
I dream of transparent heads where beauty is measured by the shade of thoughts.
I dream of boys in comic books with skin in brown and blue.
I dream of mouths, moths – glittering spillages on the night bus.
I dream of tomatoes that gleam like the cheeks of girls.
I dream of her, and hope, and home.
I dream that I can be glamorous, that I can glow.
I dream that the trees never die.
I dream of how the mountains grow.
I dream I can pursue my dreams of dreaming of belonging and being free.
You have two lives, human and dream. It is up to you which one you live in.
A dream is like tendrils of smoke, real in the moment but fading when grasped.
I hope you dream of me in lurid colours.
I dream of what I am: breathing, beating, here.
With thanks to a crowd of young poets: Abby Aitken, Ava Gwenan John, Benjamin Stocker, Beth Bayliss, Chloe Fletcher, Cia Mangat, Eurion Gwyn John, Felix Stokes, Francesca Weekes, Imogen Usherwood, Iona Mandal, Josiah Mortimer, Katherine Almquist, Lucy Ryan, Lydia Wei, Meg Ozia Stockwell, Prisha Pahariy, Taylor Fang, Weina Jin and William Ridgeon. Young Poets Network is The Poetry Society's online platform for young poets up to the age of 25.
Attendees of the Free Thinking Festival 2018 will have the chance to contribute to a new crowdsourced poem, curated using a "poembola" in the foyer of Sage Gateshead. For more information about the festival, its events and subsequent broadcasts, visit the Free Thinking Festival season page.
Browse events, programmes and features from this year's festival at Sage Gateshead.

How can we fix the globalised free market to benefit the one and the all?

With global population on the rise, could having kids be your biggest moral mistake?