Main content
FIFA 21 review: 'The virtual, beautiful game is passing off old as new'
By Jordan Middler // BBC The Social contributor // 06 October 2020
FIFA 21 is the latest in the world's most popular kickery-pokery simulator series.
While minor on-the-pitch changes make for a mostly enjoyable experience, the return of FIFA 20's catastrophic defending will have you screaming an entire chorus of swear words at your virtual XI.
However, there are some positive gameplay changes. Shockingly, the new FIFA has enabled the ability to score from crosses. A welcomed development for those who found crossing the most efficient way of giving a throw in to your opponent on the opposite side of the pitch.
Staying positive, there are some new skill moves and a refined close dribbling system. That means nutmegs are back on the menu if you don't get fouled to death by your opponent. Not that the referee will notice.
If you're like most of the FIFA playing populous, you're probably looking for this review to tell you what changes have come to the world's most popular, football-themed sticker game: Ultimate Team. Well, unlike in other years, there actually are some.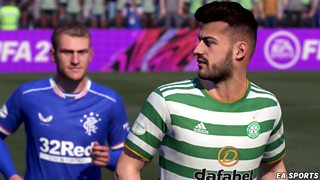 For one, they've added the ability to play Rivals, Squad Battles and Friendlies in Co-Op. Something you'd assume was in the game for years but no.
That's very much the sports game way - remove a feature, wait a few years and then reheat it as something new. Another example of this is the ability to jump into the middle of a simulation in career mode, something you could do in the PSP version of FIFA 07.
Other than that, and a few tertiary features, the career mode remains cryogenically frozen in the mid 2010s.
It's disappointing but it feels like a feature that will need completely removed and built from the bottom up if it's ever to come back from its current malaise.
If you and your pals are more inclined to play some Pro Clubs then you probably already know what I'm going to say, they've changed nothing again. I'm so sorry Clubs players, you've suffered for so long. It really feels like a mode they wish they could just get rid of due to its complete lack of monetization options.
Despite some positive gameplay changes, the virtual, beautiful game is passing off old as new.