Main content
Gigantes with Eggs
Food writer and TV chef Gizzi Erskine shows Emma Barnett how to make her version of Greek fasolia gigantes, which are tomato-braised butter beans.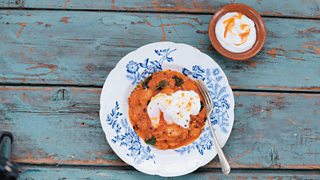 Gigantes with Eggs, Yoghurt & Hot Chilli Butter
Serves 4
Preparation time: 20 minutes, plus soaking overnight.
Cooking time: 1 3/4 hours
Ingredients
4 free-range eggs (I use
Cotswold Legbar or Burford
Brown eggs as they have
bright egg yolks)
sea salt flakes and freshly
ground black pepper
For the beans
300g Greek fasolia gigantes
or butter beans
100ml olive oil
2 onions, finely chopped
1 bulb of garlic, cloves peeled
and finely chopped
6–7 oregano sprigs
a good pinch of dried chilli
flakes
700g fresh vine-ripened
tomatoes, chopped
1 tablespoon red wine or sherry
vinegar
For the garlicky yogurt
250g Greek yogurt
2 garlic cloves, grated
For the hot chilli butter
100g butter
1 teaspoon hot chilli powder
squeeze of lemon juice
Method
I use fresh tomatoes and cook the beans in two stages, first getting them almost cooked and then raising them in a tomato sauce with oregano. I serve these beans as a brunch or light supper dish with poached eggs, garlicky yogurt, fresh herbs and hot chilli butter.
Soak the beans in cold water overnight. Drain and rinse them in a colander.
Put the beans in a large saucepan, cover with plenty of cold water (no salt), and boil for 50–60 minutes, or until they are cooked but still a little firm in the centres.
Meanwhile, in a large casserole dish, heat the olive oil over a medium–low heat and fry the onions for 10–15 minutes, or until really softened and sweet and going slightly golden.
Add the garlic and cook for a further 2–3 minutes, then add 2–3 oregano sprigs and the dried chilli flakes and cook out for another minute.
Add the tomatoes, vinegar and some black pepper and cook slowly for 20 minutes, or until the sauce has homogenized.
Transfer the sauce to a food processor or blender and blitz until smooth, then return to the same casserole. You don't have to blitz the sauce but it does turn this into a much more refined dish.
Drain the par-cooked beans, add them to the casserole with remaining oregano sprigs and cook, partly covered, for 40 minutes, or until the beans are completely cooked. For the garlicky yogurt, mix together the yogurt and garlic in a small bowl and and season well.

Bring a saucepan of salted water to the boil. Poach the eggs for 3 minutes so that the yolks are still soft.

Remove each poached egg with a slotted spoon and drain on kitchen paper.
While the eggs are poaching, make the hot chilli butter. Heat a frying pan over a high heat, add the butter and chilli powder and cook until the butter starts to go slightly brown and nutty. Carefully add the lemon juice, watching out as it will splutter.
Divide the beans between 4 plates and top each with a poached egg and some of the garlicky yogurt.
Drizzle over the hot chilli butter to serve.
More Food on the BBC
Browse our selection of recipes from top chefs, cooks and food writers who have joined us on Woman's Hour...

Download this interview, or subscribe to the Cook the Perfect...downloads