Main content
Mike Catto's Weekly Review
IT Chapter 2
The first film, originally subtitled The Losers' Club, but now known as Chapter 1 opened in September 2017. It went on to become the highest grossing horror film of all time (adjusted for inflation). Filming on #2 began almost immediately, in June 2018…which is why they could use the original young cast before they grew up too much.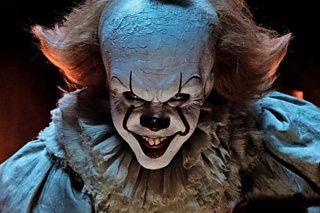 It's the same with other threads that are picked up and then not followed through.
In that respect, this is a seamless #2, being able both to push the action forward 27 years and to include chunks from Stephen King's 1138 page doorstopper 1986 novel that didn't get into #1. Equally, there are elements from the 1990 mini-series adaptation that don't appear. I am sympathetic to the task that the makers had in following up the massive $700M hit from 2017, but this new bloated version is best suited to Completists, rather than offering anything new. I am NOT going to get into the Tim Curry vs Bill Skarsgard as Pennywise argument. It's the film presented here that is my focus.
Discrimination against blacks, obesity, gays and the sexually abused created The Losers' Club, and the new film opens with a protracted and violent attack on two gays at a funfair in Derry, Maine. Good start, showing that alt-right thugs are still with us, but it ends as an excuse for one victim being found and killed by Pennywise. It's the same with other threads that are picked up and then not followed through.
My main concern is that the film is now a compendium of everything you have ever seen in a Stephen King film (he even has a cameo role, as has, for some reason, Peter Bogdanovich). The torrents of gloopy blood, as before, evoke, The Shining, and here, when Bev is trapped in a toilet cubicle, a leering entity partly opens the door, rasping "Here's Johnny!" The Losers always echoed the kids in Stand By Me, and here the voiceover plus Bill typing on screen are like that other film but dialled up to 11 on the pretentiousness scale. The visual effects are good – as one would expect, the budget for this film being 300% larger than that of 2017 - but they are not ground breaking, and the nightmarish creatures (don't open Fortune Cookies) are now standard fare.
Modern cinematic horror has moved on a lot in two years.
One problem is highlighted with Finn Wolfhard returning as young Richie. He's now best known for Stranger Things, and it's difficult now to watch IT #2 without thinking how TV shows like Stranger Things or even the film Super 8 managed both to celebrate schlock genres and to subvert them. Thus, in some ways, IT #2 is old fashioned. For some that will be reassuring, but for me, modern cinematic horror has moved on a lot in two years.