Main content
Nine things we learned from Gary Barlow's Desert Island Discs
As a songwriter, Gary Barlow has topped the British singles chart more than a dozen times. He has sold more than 50 million records around the world, as a member of Take That and a solo artist. His path to pop superstardom was unconventional: as a teenager he played the organ on the club circuit, while writing songs in his bedroom. After his immense success with Take That, his career faltered when his second solo album flopped and his record label dropped him. He returned to the spotlight when Take That reformed in 2005, and his career since then has included a musical celebration of the Queen's Diamond Jubilee, world tours and three stage musicals.
Here's what we learned from Gary Barlow's Desert Island Discs: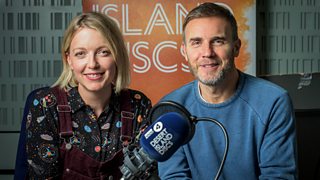 1. Depeche Mode changed his life
As a child, Gary watched Top of the Pops "religiously", and still recalls the first time he saw synth pioneers Depeche Mode: "They're playing music which all of a sudden really connected with me. There he was, Vince Clarke, playing a synthesiser. It was like watching God. It was a lightbulb moment for me. I all of a sudden knew where I wanted to be, and it was on that stage."
Depeche Mode's 1981 hit Just Can't Get Enough is Gary's second choice of disc for the island.
2. His dad made a big sacrifice to buy Gary his first proper keyboard
After starting on a mini instrument, Gary soon wanted something to match his musical ambitions. He took his father to a music shop: "This guy showed us a Yamaha organ. And I saw my dad ask the price of it, and I saw his face drop. I think it was £400 – and he sold all his time off at work to pay for [it]."
Gary selects A Whiter Shade of Pale by Procul Harum as his third disc because it's one of the first songs he learned to play on his new keyboard.
3. Ken Dodd kept him on the edge of his seat
At the age of 14, Gary was playing the organ in a cabaret club. He found himself backing Ken Dodd, famed for his marathon stage performances. Before the show, Ken would give Gary the cue line for his song, and then Gary would have to listen out for it, as Ken told joke after joke: "an hour goes by, and then another hour goes by, and you're poised waiting to start the song… he really did have us on our toes."
I'd play gigs and I'd get home at one in the morning, headphones go on and I'd play for another hour.

Gary Barlow
4. Secondary school took second place to show business
Playing eight shows a week as a teenager on the cabaret scene left little time for homework, but music was Gary's all-consuming obsession: "Sometimes I'd play gigs and I'd get home at one in the morning, headphones go on and I'd play for another hour. I loved it, it made me feel fantastic."
5. At first he felt very different from his Take That bandmates
Gary had already spent years as a working musician, hanging out with much older performers, when he first met Jason, Mark, Howard and Robbie: "When I joined the band, I was this incredibly old-minded 19 year old, and coming face to face with these young, cool guys it was like 'Oh my goodness, where have I been for the last eight years?'".
6. He now knows why his solo career faltered
Although Gary was widely tipped to achieve huge success once Take That split, his second solo album flopped, while ex-bandmate Robbie Williams' career soared. "I just lost my confidence and I made a record, 12 Months and 11 Days, by committee, the worst thing you can ever do – because when everybody's happy, nobody's happy."
7. His loss of musical confidence led to a loss of personal confidence
Food became a problem as Gary's musical career stalled, and he readily admits he had an eating disorder: "There was definitely, again, a lightbulb moment for me, where I realised 'this is as bad as I want to let it get' and it involved a trip to the doctor, who informed me of my weight and that I was in a bad place. And also, I had young kids at the time and it felt highly irresponsible to be in the shape I was in… The music confidence had gone, now the personal confidence had gone and it didn't feel right, and so I needed to change that."
8. He had an intense conversation with Prince – about studio equipment
Gary is a self-confessed gear-hound, who has long collected keyboards and studio technology, which he loves with a passion. When he met Prince, the talk turned to microphones – and more: "I threw a gear question at him – and honest to God, I couldn't get rid of him, I honestly couldn't… I couldn't shut him up. He was taking it to a whole new level [so] that even I was disgusted. It was fantastic!"
Gary's choice of book for the island reflects his obsession with studio tech – it's Recording the Beatles by Kevin Ryan and Brian Kehew.
9. He has one main regret from the 1990s – which disappeared when Take That reformed
When the band reunited in 2005, Gary says "it just felt entirely different. And it felt different because, we're four adults in charge. The audience… they almost ordered us back. We felt just so unbelievably loved. And the one main regret for me in the 90s was I just spent the whole time worrying. One of the very first questions [about the band making another record] was 'Gaz, are you going to produce it?' – and I was like 'No! I want to go to the pub with you lot at the end of the day.'"

More from Desert Island Discs