Main content
Pop Art Season
In August, BBC Four Goes Pop as the channel celebrates the history and influence of Pop Art. Radio 3, Radio 4, BBC 6 Music, iWonder and BBC Arts feature more Pop - details below.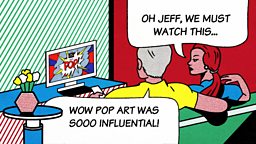 BBC Four Goes Pop
In the centrepiece film of BBC Four's pop art season, Alastair Sooke champions pop art as one of the most important art forms of the twentieth century, peeling back pop's frothy, ironic surface to reveal an art style full of subversive wit and radical ideas.
Stephen Smith meets with many of Andy Warhol's friends and confidantes to get closer to the man behind the enigmatic public image, experiencing for himself a day in the life of the pop art superstar.
Dr Richard Clay goes in search of what it is that has made us scribble and scratch mementoes of our lives for more than 30,000 years.
Over the past sixty years artist Peter Blake has enjoyed a celebrated career. We spend time with him at work in his studio and follow the process of the Mersey ferry's makeover.
Derek Boshier was one of the pioneers of the British Pop Art movement. We spend a day at his studio in L.A. as he works on a new painting and reflects on his life and career.
BBC Four Pop idents
Pop Artists Peter Blake, Peter Phillips and Derek Boshier are creating unique channel idents for BBC Four, to be shown on television during the season and also available here on the website.
Alastair Sooke and Peter Blake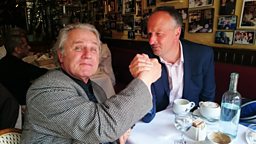 Gerard Malanga and Stephen Smith at Lucien's, a watering hole for poets and artists on Manhatten's lower east side
BBC Radio
From Boshier to Blake, 6 Music celebrates pop art with a series of programmes about its influence on alternative music.
Lauren Laverne will be highlighting a different aspect of pop art every day on her show, along with compiling a Peoples Playlist themed around the women of pop art starting from Debbie Harry. Stuart Maconie's Freak Zone will take an in-depth look at the Velvet Underground and Nico, Sir Peter Blake presents a documentary about his most famous protégé Ian Dury and, on Friday August 28, the artist Jeremy Deller sits in for Iggy Pop to take a look at the role of art in music.
Radio 4 will broadcast Fifteen Minutes, a play by Sarah Wooley about the last days of Pop Art set in New York in the heady days of Studio 54. And on Radio 3, Paul Morley presents Andy Warhol's Factory Friends.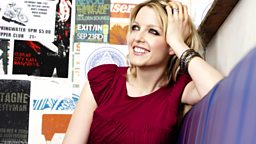 Lauren Laverne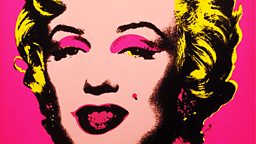 Transmitting Warhol
Pop Art Features
A dissenting view from the global artists represented at The World Goes Pop exhibition at Tate Modern.

Can Pop Art really trace its origins to the work of a couple of artists from Scotland?

Stephen Smith compares the courts of Andy Warhol and the original Sun King, Louis XIV - with the Factory as a 1960s Versailles.

Watch the BBC Four Goes Pop! channel idents by Peter Blake, Derek Boshier & Peter Phillips.

Find yourself in the midst of a typical day for Pop Artist Andy Warhol in the mid-1960s.

Controversial British Pop Artist Allen Jones is the guide around his Royal Academy exhibition.

A Career in Quotes: What the critics said about controversial British Pop Artist Allen Jones.

Follow Andy and his entourage as they tour London in 1970, meeting David Hockney and film critic Dilys Powell.

A fascinating look inside The Factory in 1965, as filmmaker and activist Susan Sontag visits while Andy is filming.

When Everyone Could Own a Warhol: Andy Warhol's 1950s album covers for hip jazz labels such as Blue Note.

The Factory 1964-1970: Billy Name's iconic images of Warhol's Silver Factory, with the Velvets, Nico, Warhol superstars & Dali.

William Cook on the exquisite colours of German Pop at an exhibition in Frankfurt.

Artworks from the bold and brilliant pioneers who shaped Germany's 1960s pop art scene.