Main content
Young Choristers of the Year 2015
Two young choristers from Winchester and Cambridge have been crowned the winners of the prestigious BBC Radio 2 Young Choristers of the Year 2015 competition.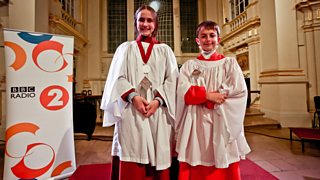 2015's winners: Agatha Pethers and Angus Benton
Angus Benton, aged 11, from Winchester College Chapel, and Agatha Pethers, aged 14 from St Catharine's College Chapel, Cambridge, were announced as Radio 2's Young Choristers of the Year 2015 in a special programme broadcast on Radio 2, on Thursday 22 October.
The grand finale of this year's competition took place in the heart of London at St Martin-in-the-Fields, and was hosted by presenter of BBC Radio 2 The Sunday Hour - Diane Louise Jordan. The final featured eight contestants from around the UK who each performed in front of a panel of highly acclaimed judges.
Chaired by world renowned composer, John Rutter, the judges on the night were international choral director and promoter of young voices, Suzi Digby OBE, choral director and arranger, Simon Lole , and singer and songwriter Dionne Bromfield.
Bob Shennan, Director BBC Music, Controller BBC Radio 2, 6 Music and Asian Network, said: "Radio 2 is not just about showcasing well known popular artists, we also strive to uncover and support emerging young talent as they start out in the world of music. The winners of the Young Choristers of the Year 2015 are a wonderful example of how amazing the talent breaking through is, and we are delighted to be part of their journey."
Simon Lole said: "It never ceases to amaze me how these young choristers produce such incredibly musical performances, year after year, under such pressure. The standard in 2015 has been really excellent and we have two very worthy winners who will carry the beacon of young choristers everywhere for the next twelve months. Choral Music is clearly still very much alive and kicking!"
John Rutter said: "Another stellar competition this year, with an amazing group of finalists, two worthy winners, and a lovely warm supportive atmosphere in the audience. It's always a joy to be involved with this competition, which celebrates the huge contribution made by young people to choral singing in our nation - something to be proud of."
The two winners each received a trophy and £500 worth of lessons with an established singing coach. The winners will also have the opportunity to take part in a range of radio and television programmes over the year for BBC Religion and Ethics, in addition to wider BBC engagements.
Past winners of the Young Chorister of the year title have made radio and television appearances, been awarded recording contracts, appeared in West End musicals and sung with prestigious choirs and classical cross-over groups.
The BBC Radio 2 Young Choristers of the Year 2014 were Tom King, aged 13, from Surrey and Helena Paish, aged 12, from Devon. Since winning, Tom and Helena have appeared on BBC One's Songs of Praise and BBC Radio 4's Daily Service in a special broadcast for BBC Music Day.
Watch interviews with last year's winners