Main content
Kate Adie's Memorable Moments from FOOC
From Our Own Correspondent – a magic carpet to world events and weirdly wonderful places – with inquisitive, knowledgeable guides. Correspondents who witness invasions, the fall of governments, but who would also like to tell you what it's like getting a tattoo – by mistake – in India, or buying a T-shirt to the sound of anti-aircraft fire in Libya...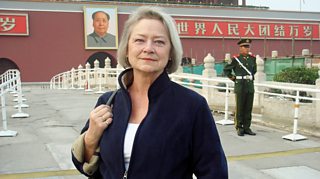 It's a place for the stories that don't fit neatly into a news bulletin but are revealing all the same. Sometimes it's the first impressions of a correspondent who's just begun a new posting – in a place they'd never imagined they end up in.
But there's also a depth of experience, when someone who's spent years reporting a country has to pack their bags and move on – and has a wealth of memories – not only of interviewing the country's president, but of desperately haggling for a decent jacket to wear for the occasion.
From Our Own Correspondent has never failed to delight and surprise me – there's always something new to learn.
These are just some of the many memorable moments from more than 60 years of broadcasts.
2009: David Willey prepares to move out of his centuries-old, 1,000 room palazzo in Rome.

2015: Tim Whewell on Syrians united by football then divided and embittered by civil war.
2011: Kevin Connolly reflects on what it meant to live through the toppling of Gaddhafi.

2011: Steve Evans had very personal reasons to celebrate the killing of Osama bin Laden.
1978: Michael Elkins, an American Jew in Israel, challenges the ubiquity of rude service.

2008: Emma Jane Kirby contrasts super-serving French healthcare with British sangfroid.

2000: Surprisingly, Kate Clarke had a big advantage when reporting from Afghanistan – her sex.
2013: Joanna Robertson in Paris explodes the myth that French women don't get fat.

2002 Caroline Wyatt meets the victims of an unusually cruel Siberian winter.

More Correspondents on Radio 4
A selection of fascinating and eye-opening stories from reporters around the world.

The best foreign correspondent podcasts from around the globe.

Practical tips from our own correspondents… and some dire warnings!