Main content
Masala Chai
Chetna Makan's new book 'Chai, Chaat & Chutney' is a celebration of the food eaten by India's 1.3 billion population. Chetna travelled to Mumbai, Kolkata, Delhi and Chennai and took inspiration from the food she sampled to create simple recipes which can be cooked at home.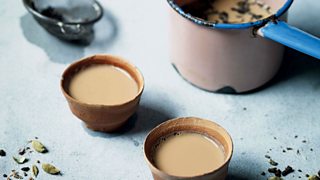 Subscribe to the Cook the Perfect podcast
MASALA CHAI
The backbone of Indian street food culture, this drink is available in every nook and cranny of almost every street in India. Everyone has their favourite chai stalls, which they'll visit daily, whether it's day or night. When I was in my final year of college and we were working late at night, a chai walla would come to the gate on a bicycle at around 1am with piping hot chai in a container. All the students who were still up would go and sit in a big group just outside the college to take a break and drink tea together. I learned this masala chai recipe years ago from a tea stall holder in Delhi.
300ml (1/2 pint) water
1 thick slice of fresh root ginger, peeled and squashed
2 green cardamom pods
2 cloves
2 teaspoons granulated sugar
1 tablespoon loose-leaf tea or 2 tea bags
5 tablespoons milk
Combine the measured water, ginger, cardamom pods and cloves in a saucepan and bring to a boil. Add the sugar and tea, reduce the heat to low and cook for 2 minutes, until the mixture darkens to a deep, strong colour. Stir the milk into the pan and return the mixture to a boil, then reduce the heat and simmer for 2–4 minutes, until well infused. Pass the masala chai through a sieve into 2 cups and serve immediately.
More recipes:
Chai, Chaat & Chutney: A Street Food Journey Through India by Chetna Makan is published in hardback by Mitchell Beazley, priced £25. Photography Nahima Rothacker & Keith James:
More Food on the BBC
Browse our selection of recipes from top chefs, cooks and food writers who have joined us on Woman's Hour...

Download this interview, or subscribe to the Cook the Perfect...downloads