Main content
The Witterlist - 31st August 2018
Mark has taken his annual trip up to Shetland, so Simon was left talking to an empty chair - but that didn't stop us bringing you a packed show full of the latest reviews and an interview with a very special guest.
If you've missed a show or just want to revisit some of our premium movie content, you can find highlights of all of our programmes on our dedicated Witterlist page.
The Interview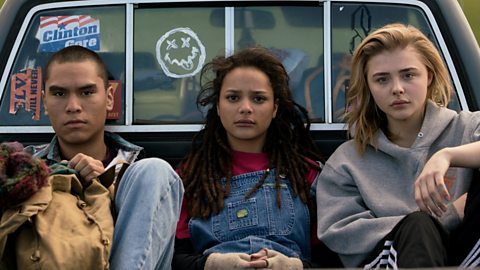 Chloe Grace Moretz talks to Simon Mayo about her new film.
Chloe Grace Moretz is the star of new drama The Miseducation Of Cameron Post, in which a young girl is sent to a Christian camp where the intention is to "cure" teenagers of their "same-sex attractions". Chloe spoke to Simon on today's show and told him about her attraction to roles that favour emotion over lots of exposition, the appeal of working on such a female-centric set and how the film is as relevant today as it would have been back in 1993, when the story is set.
Searching is the latest in the burgeoning 'on-screen' sub-genre of thrillers where all the action takes place within a single computer's display. John Cho plays a man who hacks into his daughter's computer after she disappears. Mark was impressed that the film works so well within its limitations to create a gripping, compact mystery.
The Happytime Murders is a puppet (don't call them Muppets…) crime comedy starring Melissa McCarthy as a downtrodden LAPD detective who is forced to take a fuzzy partner when puppets start being violently murdered. If the idea of puppets getting into very adult situations amuses you, you might find something to enjoy here, but Mark certainly didn't.
Idris Elba was on last week's show talking to Simon about his directorial debut, Yardie. It's released this week and Mark found it to be made with confidence and care that – while it doesn't always hang together – is overall a rewarding film.
Johnny Knoxville returns to his trademark Jackassery in Action Point, which takes the lead from Bad Grandpa in marrying outrageous stunts with a more traditional comedy film. Knoxville plays D.C., an old man remembering the days when he owned and operated the Action Point theme park. To build up business, D.C. decides to try his hand at ridiculous and dangerous stunts. Mark didn't think it was worth Knoxville's suffering in making the film, as neither the stunts nor the tedious emotional streak forced into the narrative make the film anything more than a test of your patience.
Upgrade is the new sci-fi thriller from Leigh Whannell, best known as the co-creator of the Saw and Insidious franchises. This film sees brilliantly named technophobe Grey Trace given Stem, an experimental microchip that upgrades the human body. It's thoroughly B-movie fare, but treated with a self-awareness and sense of fun that means it can get away with the ridiculous premise.
Next week
Next week, Sirs Michael Caine and Tom Courtenay join us to talk about their new heist film, The King Of Thieves, plus we'll have Mark's review of The Miseducation Of Cameron Post.