Main content
Matt Healy on streaming: 'I can't be arsed to register'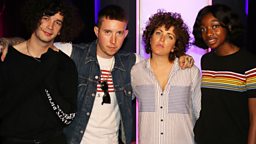 One of the most talked about and most listened to albums of the year is Frank Ocean's Blond.
Blond can currently only be bought and streamed in one place and was released on Frank's own label. Since its release, there have been rumours of one major record label banning its artists form signing exclusive streaming deals with the likes of Spotify, Tidal and Apple Music.
Labels are in a state of confusion over streaming but users now have a wealth of options - and a brand new Frank Ocean album.
However, it's very different if you're a musician.
Matt Healy of The 1975, Laurie Vincent of Slaves and Little Simz shared the view from the other side.
"We all started making music because we're artists and everyone told us we'd never make any money," Laurie from Slaves tells Annie Mac in her first Exchange, which sees music insiders discuss the big issues of the industry.
"For big acts, like Kanye West or Frank Ocean, they're flying. But for us, we're being told we can only be on one of the outlets and they're making more money than us.
"I wish that they would quit bickering and work together to help artists."
Watch Slaves' Feed The Mantaray video
Rising rapper Little Simz admits she would face a crisis of conscience if she was ever asked to license her music to just one streaming service.
"If Apple were to approach me, I probably would do an exclusive," she says.
"I'd have to weigh up the pros and the cons because I don't want to exclude people who don't have the money. I don't want to limit my fanbase."
Watch Lil Simz' Dead Body video
The 1975 performed a show for Apple Music as part of the launch of their second album, but frontman Matt Healy insists this was while users were still using free trials and didn't have to pay to see their gig.
"There's two different conversations to be had. The effect of streaming has had culturally on the artist and the effect it has had on the consumer," he says.
"My intention as an artist is to get my art out to as many people as possible, without creatively compromising."
Watch The 1975's Somebody Else video
He also believes a change in the way people think and consume has also helped the rapid rise in streaming.
The internet has rewired our brains and we have a much shorter attention span

Matt Healy
"If we're talking about the relationship the consumer has these days, it becomes a cultural thing," Matt continues.
"The internet has rewired our brains and we have a much shorter attention span.
"One of the things that puts me off is I can't be arsed to register."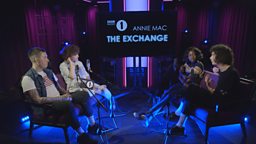 During the broadcast, they also discussed a scenario where some of the biggest artists in the world were streaming on different sites, with fans having to pay for various subscription services to listen to the music.
I don't know another time where you could have unlimited access to the history of music for £30 a month

Matt Healy
"We live in a time now, if that was a situation - the most it's going to cost you is £30 - £40," Matt says.
"We do live in a golden age of music consumerism, I don't know another time where you could have unlimited access to the history of music for £30 a month."
Beyonce's Lemonade was a Tidal exclusive
Both Laurie and Matt belong to bands who sell a lot of physical copies and they believe streaming is also helping keep vinyl sales alive.
"It must drive physical sales and you have a responsibilty as an artist to your fans to release," says Laurie.
"You and us are a very good example of that," agree Matt. Your vinyl does very well and our vinyl does.
"It's like polaroid cameras. It has all gone full circle because people will always want the tangible thing.
"It's just a human desire."
Annie Mac's Exchange is available to watch and listen online now, including the full discussion about streaming plus how these artists adjust to real life when they come off tour and much more.